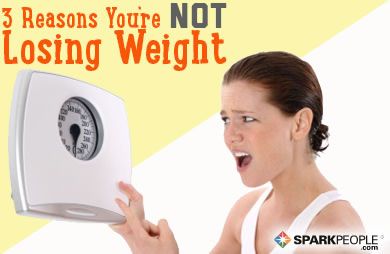 You've been sticking faithfully to your calorie range and exercise plans for awhile now, but you're not seeing the results you want on your scale. Meanwhile, your weight -loss buddy is happily watching the pounds melt away week after week. Not fair!

Or maybe you're losing weight but not from the areas where you really want to shed some fat. (Skinny feet are nice, but not so much when your muffin top is still as big as ever.) And then you have that other friend who can eat anything and everything without gaining a pound, while just watching him or her eat seems to make you gain weight.

What's going on here? Why don't your efforts seem to be paying off while weight loss seems so easy for other people? Is there anything you can do to get better results?

Sometimes there is a simple, general reason why one person loses weight faster than another. For example, men tend to lose weight more quickly than women, mainly because most men naturally have more lean muscle mass (thanks to their higher testosterone levels), and more muscle translates into a faster metabolism. Men and women also tend to store excess weight in different places—men in the abdominal area ("apple" body type), which is usually easier to lose; women in the hips and thighs ("pear" body type), which is usually harder to take off.

People who have more weight to lose may also drop the pounds more quickly in the beginning of a weight-loss program. This is because the more you weigh, the more calories you burn during any given activity. (Walking with an extra 50 pounds on your frame is harder than walking with 20 extra pounds of weight.) A person who weighs more can also cut more calories from his or her diet without jeopardizing the body's ability to function efficiently. If you weigh 300 pounds, you may need 3,500 calories per day or more to maintain that weight; cutting 1,000 calories from your diet (down to 2,500/day) will let you safely lose 2 pounds per week. But if you weigh 150 pounds, you may only need 1,800 calories to maintain your weight, and if you try to cut the 1,000 calories from your diet (down to 800/day), your body won't have enough fuel and your metabolism will slow down drastically, making fat loss harder, not easier. Therefore a person with less weight to lose needs to aim for a smaller calorie deficit, which will translate to a slower rate of weight loss.

Continued ›
Article created on: 3/1/2011