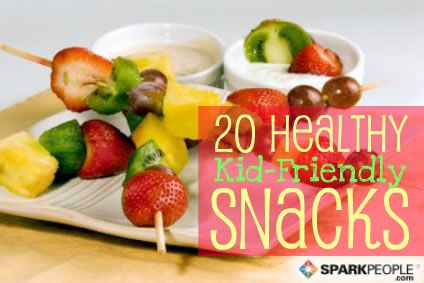 Let's face it. Kids are hard to please, especially when it comes to food. It's not uncommon to constantly deal with picky eaters and wee ones who want the same thing over and over and over again, and snack ideas are sometimes challenging to drum up. These mini-meals can be a boatload of fun (and a good source of nutrients) for you and your kids.

(Note: Do not give nuts to children under three or honey to children under age 1, and give age-appropriate bites to avoid choking. For more information on age-appropriate snacks, read Tasty Treats for Toddlers from our sister site BabyFit.com.)

Peanut Butter and Jelly Sushi: Bring out your child's sophisticated side with this interactive snack. Use a pizza cutter to trim the crust off a slice of whole wheat bread and have your kids roll it flat with a rolling pin. Spread peanut butter and jelly, jam, or honey on the bread, roll it up and cut 1-inch sections with a butter knife. You can even arrange the "rolls" on a platter and encourage them to use chopsticks. (Secure them together at the top with a rubber band until kids get the hang of them. It's a great way to learn hand-eye coordination.)

Frozen Fruit Pops: Ditch the fruit-roll ups and fruit snacks and give your kids some nutrients in this tasty treat. Use popsicle molds or regular ice trays to freeze your own fruit-sicles. Pop fresh or frozen fruit (the kind without added sugar) into the blender and swirl until nice and thick. Add milk or low-fat yogurt to make them extra creamy. Experiment with strawberries, bananas, mango, pineapple, blueberries and more.

Homemade granola bars: Rather than stock up on pricey storebought bars, bump up the amount of whole grains your kids get each day with these grab-n-go snacks. Try this recipe out! Toast 1 cup crushed peanuts, 2 cups oats, 3/4 cup wheat germ and 3/4 cup sunflower seeds in a baking dish for 10-12 minutes in the oven at 350 degrees Fahrenheit. Stir every couple of minutes. Meanwhile, simmer 2/3 cup brown sugar, 1/2 cup honey, 4 T margarine, 2 t vanilla extract, 1/2 t salt, and 8 oz dried fruit in a saucepan, stirring constantly. When the grains are done toasting, combine the two and spread into a baking dish lined with wax paper and coated with nonstick spray. Spread the granola around with a wooden spoon. To get your bars to really stick, lay another sheet of wax paper on top and press it down hard. Cool the brick for 2-3 hours, then remove from the pan and press down hard (don't saw!) with a large knife to cut your bars. Chop them into small, kiddie sized squares for an on-the-go treat.

Continued ›
Article created on: 4/22/2010