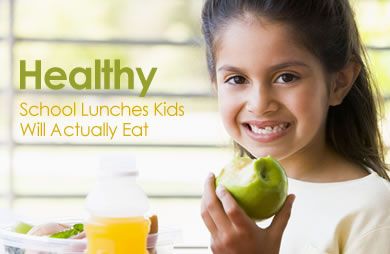 Breakfast might be the most important meal of the day, but lunch runs a close second. Studies have shown that children who eat a well-balanced lunch often do better in school and are more alert. It can be difficult enough to get your child to eat right when you're there to monitor what he or she eats. But in the cafeteria, where the temptations of pizza, vending machines and other unhealthy snacks await, you have to up your game to get kids to actually eat what you've packed.

To help you provide healthy lunches for your family, we asked members and experts for tips and advice on packing kids' lunches.

First of all, remember that it's not your lunch. If you pack broccoli and your son hates it, he won't eat it. Let your kids weigh in on what they want to pack in their lunches, and offer them a few healthy choices so they feel like they're in control.



Save Money and Pack Smart
Though you might be tempted by their convenience and kid-friendly sizes, avoid pre-packaged, processed foods for your kids' lunches. They're expensive and loaded with sodium and preservatives.
Think outside the lunchbox. Did your kids love last night's roasted chicken and vegetables? Pack some in a thermos to eat the next day. Pack leftover meatballs into a whole-grain hotdog bun for a lunchtime sandwich. Mix leftover rice and vegetables and top with chunks of pork or chicken.
There's no rule that lunch has to include a sandwich, chips and a cookie. Try a tasting plate of chicken chunks or deli turkey roll-ups with a handful of grapes, and carrots with a small container of low-fat dressing. Finger foods are usually a hit with kids.
Be safe. Pack lunches properly to ensure food safety and freshness. Invest in a reusable ice-pack, a thermos to hold warm foods and a variety of different sized containers. Include a cloth napkin and reusable utensils to cut down on waste. Remind your child to always wash her hands before she eats.
A Balanced Meal

Include something from each food group, but be creative. Here are some tips for creating a well-balanced meal.
Continued ›
Article created on: 2/14/2010