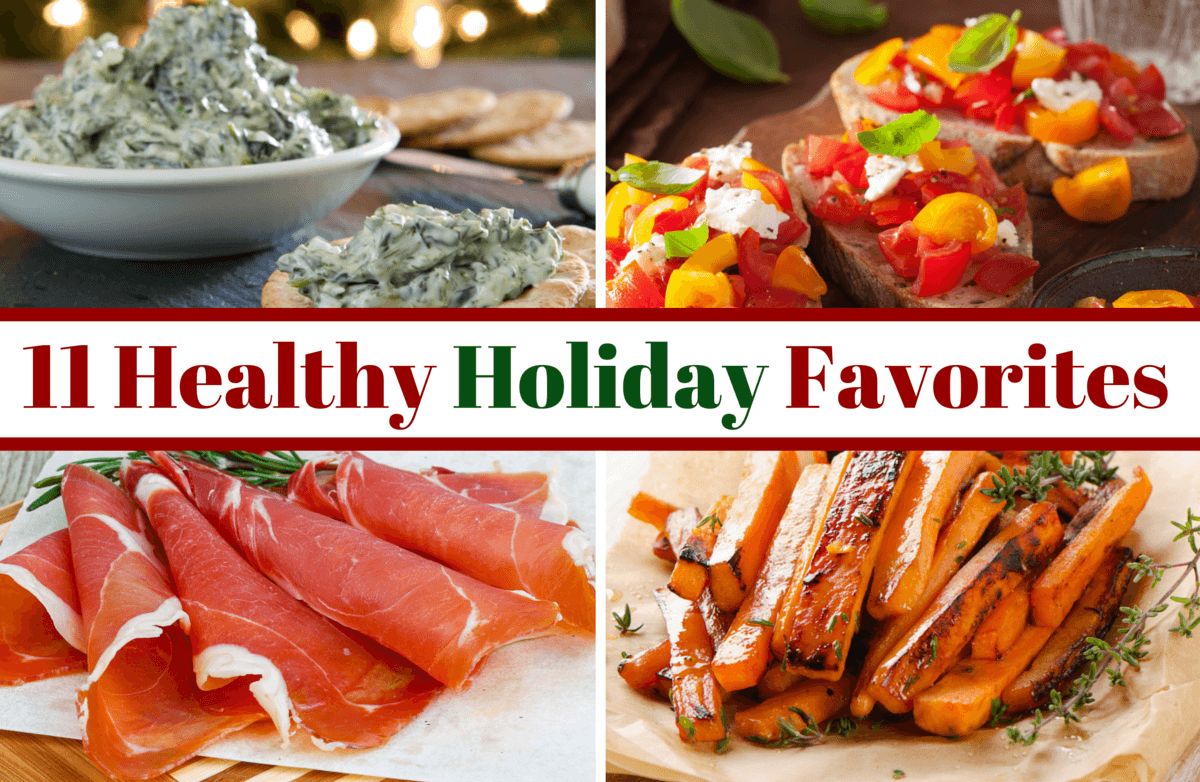 The holidays should be a cheerful time of year. But is the constant worry about making the "right" food choices making you feel less like a sugar plum fairy and more like a Grinch? Relax! You don't need to hibernate at home to avoid weight gain or food temptations. Resolve to eat, drink and be merry this season by focusing on all the healthy foods you CAN enjoy without guilt!

At holiday get-togethers, high-cal foods are par for the course. But you can also serve (as host) or bring along the following nutritious foods to please any guest's palate. Here are six healthy party foods that will fit in at any holiday gathering.

Bruschetta
Freshly cut tomatoes mixed with basil, balsamic vinegar, garlic and a splash of olive oil on top of lightly toasted bread. Is your mouth watering yet? When made right, bruschetta (get the 84-calorie recipe here) becomes a light and nutritious appetizer that everyone loves to munch. Its tomatoes provide the phytochemical lycopene, and by swapping whole-grain bread for white bread, you'll boost the fiber content. Those benefits make this a snack worth relishing.

Artery-Loving Artichoke Dip
Who doesn't love a creamy artichoke dip? Most classic recipes are loaded with saturated fat and calories, but this quick recipe (66 calories and 4 grams of fat per serving) makes a rich tasting spinach dip perfect for fresh-cut veggies and whole-wheat rolls alike.

Baked Apples
There is nothing better than leaving the cold behind and entering a warm, cozy home filled with chatting friends and the smell of cinnamon-apples wafting through the air. Treat yourself and your friends or family to a winter delight with 70-calorie freshly baked apples during your next gathering. Naturally sweet apples pair well with cinnamon and just a dash of sugar (or calorie-free sweetener) for a healthy, low-cal dessert.

Sweet Potatoes
These orange, nutrient-packed root veggies are often used in rich pies and casseroles, but don't forget about the lighter ways to enjoy them. Tasty sweet potatoes don't need much to flavor them, thanks to mother nature. Get some fiber, vitamin A and plenty of antioxidants while you indulge (guilt-free!) in one of our earth's healthiest foods, with a recipe that doesn't add extra fat and sugar. Enjoy them as chips, "fries" or mashed.

Lean Ham
A lean cut of ham can be the co-star on a healthful holiday dinner plate. Trimming any visible fat before cooking helps remove saturated fat, and flavoring your protein dish with fruit rather than brown sugar can also up the nutrition content of your meal. Pineapple and peaches both compliment the meat nicely. This flavorful entree is definitely easier on the calorie budget than fried poultry or high-fat roast beef.
Continued ›
Article created on: 12/15/2009