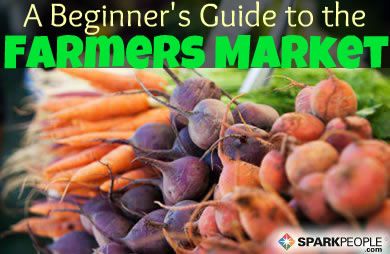 From hot summer days through those cool early fall months, farmers markets are in full swing, yielding a bounty of beautiful, fresh, local produce. Visiting a farmers market is a lovely weekend outing, but there are many other reasons to bypass the market for your weekly fresh fruits and vegetables.

While grocery stores boast convenience, the absence of seasons (strawberries and tomatoes are available in the heart of winter and imported bananas sit on shelves year round) and rock bottom prices, why would anyone shop at a farmers market? Here are a few reasons.

1. Enjoy Better Tasting Food. First and foremost, the produce is unbeatably fresh. Forget buying veggies that sat in a refrigerated truck for three days to make their way across the country. No longer will you bring home fruit that traveled across an ocean to reach your kitchen. Typically, produce at the farmers market was harvested at the last possible moment, at peak ripeness. The flavors, textures and colors are noticeably better compared with most supermarket produce.

2. Get More Nutrition for Your Money. Generally speaking, produce that is fresh and local is nutritionally superior to the fruits and veggies in many grocery stores. Many factors affect the nutrient quality of these foods, such as when the crop was harvested, how it was grown, how it was handled and processed, and how long it's been sitting on the supermarket shelf. All of these factors can decrease nutrient quality. Farm-fresh food goes through fewer nutrient-diminishing steps and gets from the earth to your table sooner. This means it is probably richer in antioxidants, vitamins and minerals (thanks to less transport, processing and storage time).

3. Meet Your Farmer. When you're at the market, you can pick up some produce—and pick the farmers' brains, too! The same people who grow the food are usually present to sell their crops at the market, and they have a wealth of knowledge to share. They can tell you how it was grown, how much longer it will be available this season, how to grow the same fruits or vegetables in your garden, and how to store and prepare the food that you buy. All you have to do is ask. You can't afford not to take advantage of one-on-one contact with local farmers.

4. Support local business. When you shop at the farmers market, you're keeping money in your own community, which helps create (and preserve) jobs and makes your hometown more economically stable. Your money goes directly to the farmer—not a middleman—so he can earn a better living. When buying at a grocery store, produce comes from commercial growers all over the country (and overseas). These growers earn about 25 cents of each dollar you spend. Put more of your money into your local farmers' pockets (and in turn, into your local economy) by purchasing fruits and veggies from the market, where farmers keep 95% of what you spend after paying "rent" for their market booth.

Continued ›
Article created on: 8/25/2009