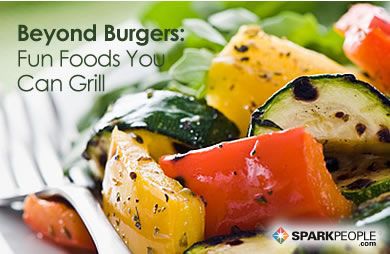 An outdoor grill lets you cook up a tasty, healthful meal while creating a great atmosphere for chatting with friends and family on a warm summer evening. But after months of grilling out, you may grow tired of the same old chicken breasts and turkey burgers.

Lucky for you, grilling isn't just for burgers, steaks and chicken! You can use this fantastic backyard appliance to cook up many other foods that you may not have considered grilling!

With so many exciting grilling options, your microwave and oven are going to gather dust during the warmer months. Below are some favorites sure to please a crowd! Get ready to fire up your propane-fueled friend to put a new spin on some of your favorite foods.

Pizza doesn't have to be baked in an oven. Grilling your next homemade pizza will get you out of the hot kitchen. And when you choose the right toppings, your homemade pie will be both healthful and delicious! Grab a premade whole-wheat crust from your local grocer and start piling away! Use your choice of sauce, such as tomato, pesto, barbeque, or plain olive oil, and top with copious amounts of sliced veggies. To keep fat and calories in check, use a small amount of lean meat (or no meat) and watch your cheese portions. Part-skim mozzarella is an excellent choice. Here are some crowd-tested favorites:
Olive oil, minced garlic, diced chicken, fresh basil and sun-dried tomatoes
Barbecue sauce, canned chunk chicken, sliced onions and diced pineapple
Pesto sauce, canned artichokes, mushrooms and low-fat feta cheese
Tomato sauce, chopped broccoli, sliced zucchini, banana peppers and sliced tomatoes
Once you've chosen your toppings, place the pizza directly onto the grill, close the lid and cover until the cheese is melted and slightly browned. Remove using a large spatula and an oven mitt. Slice and enjoy!
Continued ›
Article created on: 7/28/2009