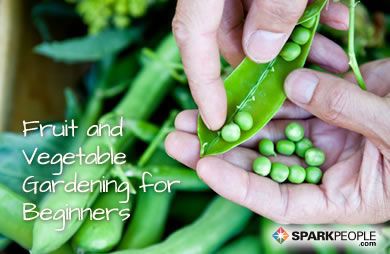 People take an interest in gardening for a variety of reasons—higher quality produce, exercise in the great outdoors, or saving money. Whether you hope to discover your green thumb or save a little green, growing your own fruits and vegetables can be an advantageous pastime. When you're just getting started, gardening can be intimidating. How do you even know where to start? SparkPeople's gardening resources will help you learn the basics, starting with the five-step process outlined in this article.

Step #1: Gather Your Gear
You should gather several gardening tools before you get your nails dirty. I cannot stress enough the importance of quality tools. Speaking from experience, it is worth the investment to buy high-quality items, as broken or insufficient tools are not only frustrating but cost you more money and time in the long run. Proper tools provide more comfort and efficiency, which means less work for you! You can find most of these items in home improvement stores, gardening supply stores (or nurseries) and online retailers. Here's what you'll need to get started:
Trowel - Used for weeding and digging small holes
Gardening gloves - As much as we like getting our hands dirty, we don't like getting them that dirty. A good pair of gloves can also protect your hands from bugs (if you're squeamish) and prickly plants and weeds.
Sun hat - For UV protection, make sure this is wide-brimmed and cinches
Watering can and/or hose – What you need will vary depending on your garden's water needs and proximity to your water source
Wheelbarrow - For larger gardens, you'll need one to transport mulch, dirt, and compost
Roundhead shovel - For digging larger holes
Rake - Ideal for spreading mulch, and gathering or transporting debris that has collected around your garden and between plants
Shears - Use to prune away browning leaves or snipping herbs
Pitchfork - This is an essential tool if you are creating a compost heap or pile
Step #2: Choose Where Your Garden Will Grow
There are three common types of gardens, all of which have their own pros and cons: traditional (in-ground), container, and raised beds. Once you've picked out the sunny spot where your garden will reside, it's time to decide on one (or a combination) of these three garden types, depending on your needs.
Continued ›
Article created on: 3/24/2009