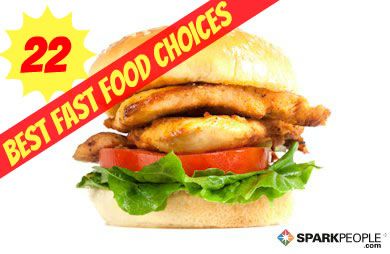 Wendy's
Try these best picks for your next lunch on the run. Get more nutrition facts at www.wendys.com.
Mandarin Chicken Salad: A variety of lettuces and toppings, like roasted almonds and crispy noodles, make this salad a flavor-packed meal. Most of the fat is unsaturated.
540 calories, 25g fat, 3g sat. fat, 65mg cholesterol, 1,260mg sodium, 50g carbs, 5g fiber, 31g protein
Ultimate Chicken Grill: Order it with lettuce, tomatoes, and honey mustard sauce.
320 calories, 7g fat, 1.5g sat. fat, 70mg cholesterol, 950mg sodium, 36g carbs, 2g fiber, 28g protein
Burger King
A salad and veggie burger top the healthy list at Burger King. Their website, www.bk.com, offers more nutrition information.
Tendergrill Chicken Garden Salad: Hold the cheese and top with the Light Italian dressing:
300 calories, 16g fat, 2.5g sat. fat, 70mg cholesterol, 1,050mg sodium, 13g carbs, 5g fiber, 33g protein
BK Veggie Burger: Say "no mayo" to enjoy this healthy, cholesterol-free vegetarian delight.
340 calories, 8g fat, 1g sat. fat, 0mg cholesterol, 1,030mg sodium, 46g carbs, 7g fiber, 23g protein
Taco Bell
When you order it "fresco style", the regular cheese and sauce are replaced by a flavorful combo of tomatoes, onions, and cilantro, all fresh (and much healthier). More nutrition facts are available at www.tacobell.com.
Fresco Style Ranchero Chicken Soft Taco:
170 calories, 4g fat, 1.5g sat. fat, 25mg cholesterol, 730mg sodium, 21g carbs, 3g fiber, 12g protein
Fresco Crunchy Taco: This menu item is much lower in sodium but still loaded with flavor.
150 calories, 8g fat, 2.5g sat. fat, 20mg cholesterol, 370mg sodium, 13g carbs, 3g fiber, 7g protein.
Continued ›