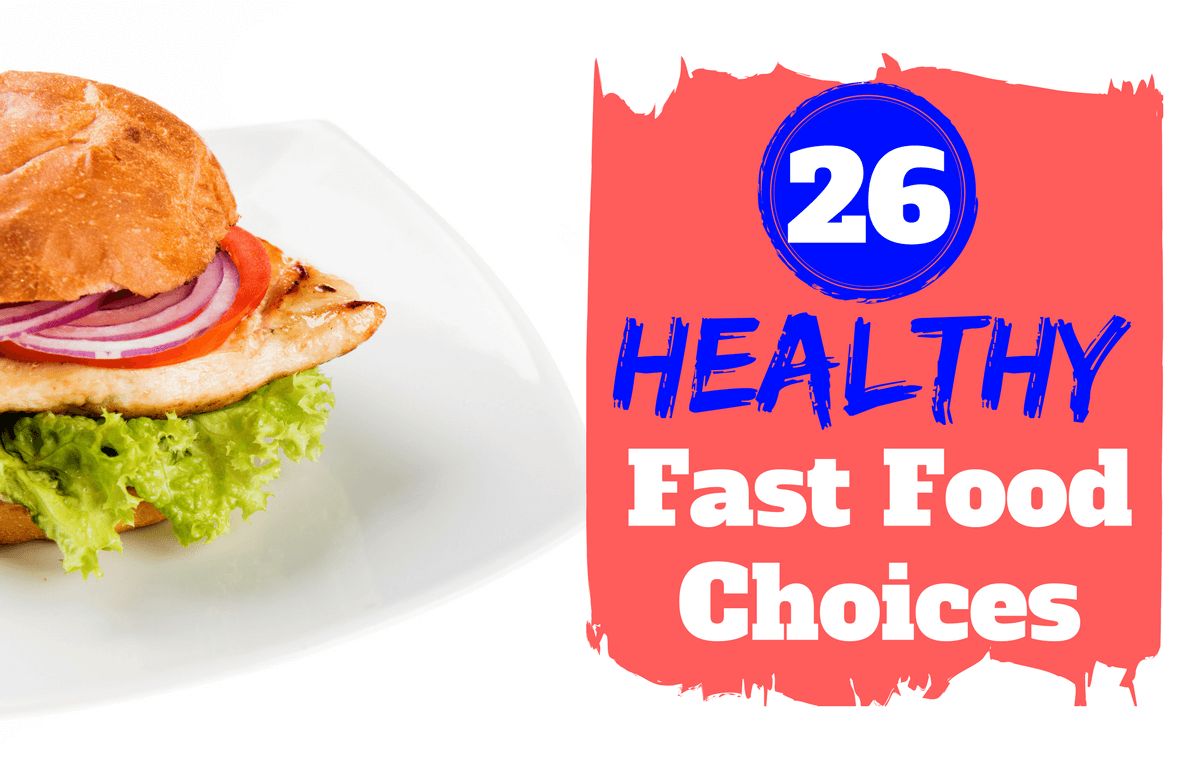 Updated on 8/24/16 by Melissa Rudy

Your fridge is stocked with fresh produce, lean meats and low fat dairy products, there's a whole grain baguette in the bread box, and your pantry has been purged of tempting junk foods. Eating healthy at home is a breeze.

But when you're out and about in the midst of a hectic day of errands and you have precisely 30 minutes to scavenge and wolf down lunch before your next appointment, squeezing in food of any sort becomes a challenge—a challenge to which fast food restaurants have risen. Tasty, convenient, and cheap, there are plenty of reasons they're popular. But if you're watching your weight, or watching your health, a fast food menu is like a minefield! One wrong step and a 2,100-calorie sandwich winds up in your stomach (and later on your thighs). But if you're careful, you can come out intact, with a meal in your hands, not on your hips.

Dining at a fast food restaurant doesn't have to be a diet disaster. We've scoured the top 10 most popular fast food chains for their healthiest picks, so you don't throw all of your hard work out the (car) window. Use this list as a guide, or visit the websites provided to tally up totals for your preferred favorites. And remember that these selections are healthier options for the occasional fast-food meal, but they may have other nutritional flaws (like high sodium), so you might not want to make it a regular part of your nutrition plan.

Chipotle
With its fresh ingredients and wide choice of wholesome fixings, Chipotle has the potential to be one of the healthiest fast-food restaurants. Below are some of the smarter choices; visit www.chipotle.com for more nutritional info.

Chicken Burrito Bowl: High in fiber and protein, this version has pinto beans and fresh tomato salsa. 320 calories, 8g fat, 3g sat. fat, 125mg cholesterol, 1160mg sodium, 22g carbs, 11.5g fiber, 38g protein
Sofritas Salad: We added Romaine lettuce, sofritas, fajita veggies and fresh tomato salsa. 200 calories, 10.5g fat, 1.5g sat. fat, 1275mg sodium, 16g carbs, 6.5g fiber, 10g protein
Starbucks
Go beyond the java and try some of this coffee chain's healthy lunch and breakfast options. Learn more at www.starbucks.com.

Zesty Chicken and Black Bean Salad Bowl: Fresh spring greens are tossed with tomatoes, feta cheese, quinoa, roasted corn, jimaca and black beans.
360 calories, 15g fat, 2.5g sat. fat, 30mg cholesterol, 840mg sodium, 38g carbs, 8g fiber, 14g protein
Spinach, Feta and Egg Breakfast Wrap: Start your day right with this high-protein, low-calorie vegetarian wrap.
290 calories, 10g fat, 3.5g sat. fat, 20mg cholesterol, 830mg sodium, 33g carbs, 6g fiber, 19g protein
Dunkin' Donuts
Go beyond the donut with these healthier choices. Visit www.dunkindonuts.com for more nutritional info.

Ham and Cheese on Multigrain Flatbread: 330 calories, 12g fat, 5g sat. fat, 45mg cholesterol, 970mg sodium, 35g carbs, 3g fiber, 19g protein
McDonald's
No one can say that McDonald's isn't convenient—you can find one on just about every corner in some cities. But can it be healthy, too? Depends on what you choose. Visit www.mcdonalds.com for more healthy ideas.
Artisan Grilled Chicken Sandwich: Instead of mayo, this chicken breast filet is flavored with a juicy marinade and vinaigrette dressing.
380 calories, 6g fat, 2g sat. fat, 95mg cholesterol, 960mg sodium, 44g carbs, 3g fiber, 37g protein
Southwest Grilled Chicken Salad: Seasoned grilled chicken and black beans, corn, roasted tomatoes and pepper in every bite will make this feel like a cheat meal.
350 calories, 12g fat, 4.5g sat. fat, 110mg cholesterol, 930mg sodium, 27g carbs, 6g fiber, 37g protein
Fruit 'n Yogurt Parfait: If you're looking for a guilt-free sweet treat, this is a winner. Made with low-fat yogurt and topped with low-fat granola, strawberries and blueberries, it's far less sinful but just as tasty as ice cream.
150 calories, 2g fat, 1g sat. fat, 5mg cholesterol, 80mg sodium, 30g carbs, 1g fiber, 4g protein
Continued ›
Article created on: 9/9/2008