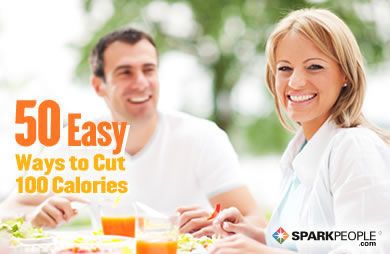 Cutting calories may seem like a daunting task, especially when you're trying to cut hundreds of calories each day to lose the recommended 1-2 pounds per week. Will you go hungry? Will your meals taste like cardboard? Will you have to give up your favorite foods?

Don't worry. When you make small changes, the only difference you'll notice is a drop in the scale! Keep in mind that cutting calories can involve smart substitutions or changes in portion sizes, too. Just remember, start small and work your way up to a new—and healthier—way of eating.

Beverages
1. Split a 20 oz. bottle of regular soda with a friend. Save 120 calories!
2. Drink 1 cup of diet soda instead of 1 cup of regular soda. Save 97 calories!
3. Swap a 12-oz. glass of whole milk for skim milk. Save 96 calories!
4. Drink two 12-oz. light beers this weekend instead of two regular beers. Save 100 calories!
5. Instead of 1 cup of prepared lemonade, try 1 cup of a sugar free variety. Save 103 calories!
6. Eat a medium orange instead of drinking 12 oz. of fresh orange juice. Save 106 calories!
7. Prepare your coffee with 4 oz. of fat-free half and half instead of regular half and half. Save 88 calories!
8. Enjoy 5 oz. of chocolate milk instead of 5 oz. of a chocolate milkshake Save 110 calories!
Continued ›
Article created on: 9/2/2008