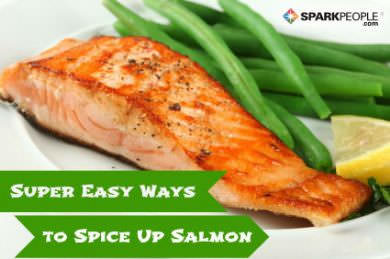 When I was in high school, my parents made a big lifestyle change that included improved diet and exercise. One of our staples when eating out became salmon. Many years later, it's still my favorite fish, but now I enjoy it at home around our family dinner table too. The best thing about salmon is that you don't have to be a professional chef or require expensive ingredients. This fish is simple to prepare, cooks fast, and has high levels of omega-3 fats and protein, but is relatively low in calories. I prefer fresh wild salmon, but you can opt for farmed or canned salmon also. Whether you already love salmon, or if you're ready to try something new, try these simple and healthy recipes to acquaint yourself with this amazing fish.
Read More ›
You probably already know that salmon and other fatty fish are a great source of
Omega-3 fatty acids
, those fats that boost brain and heart health while helping lower bad cholesterol.
Did you know that there are several other super sources of Omega-3 fatty acids, and they're easy to prepare! All you need to do is open the can and start cooking.
What are these fish? Anchovies, sardines, and mackerel. Don't wrinkly your nose! Keep reading to find out how to prep these fishy little fish and reap
their health benefits
.
Read More ›
Last month the U.S. Food and Drug Administration identified raw yellowfin tuna as the source of a
salmonella outbreak
that reached more than200 people throughout 24 states and the District of Columbia.
Salmonella
Bareilly was the organism and many of the people that became sick had eaten spicy tuna rolls. As a result of the outbreak, the Moon Marine USA Corporation in Cupertino California
voluntarily recalled their product labeled as "Nakaochi Scrape AA or AAA."
Nakaochi Scrape is the scraped backmeat from the spine of the tuna. It resembles ground fish and is generally served raw, often in spicy tuna and other rolls.
Over the past several months we have heard a great deal about lean finely textured beef (LFTB), commonly referred to as
pink slime
, in our food supply. Now that attention has turned to the pulverized fish, many are asking if it is the fish version of pink slime.
Ken Gall, Extension Associate at Cornell University and member of the National Seafood HACCP Alliance Steering Committee believes comparing the two processes of removing meat from bones is unwarranted. This is because additional processing and ammonia treatment is required to create lean finely textured beef but not for tuna scrape. While this differentiation is helpful, it still leaves questions. If tuna scrape doesn't require additional processing or chemical treatments, what is it and is it something we should be concerned about?
Read More ›
Cooking for a healthy heart is a passion of mine. Both my grandmother and cousin died young from heart disease, which is the number one killer in the United States. The exciting thing is that it's preventable with diet and exercise. Limiting sodium and eating good fats are a great place to start. For more information on heart-healthy cooking, watch
Chef Meg's cooking video
on SparkRecipes. Here are some of my favorite recipes.
Read More ›