Not every hairstyle is flattering for every face. So, if you're ready for a major hair makeover but can't figure out what style will suit your face best, don't you dare head to the salon for a new 'do before determining the shape of your face.

This quick guide will help you determine the shape of your face and the styles that will help you look your best.

Figure Out Your Face Shape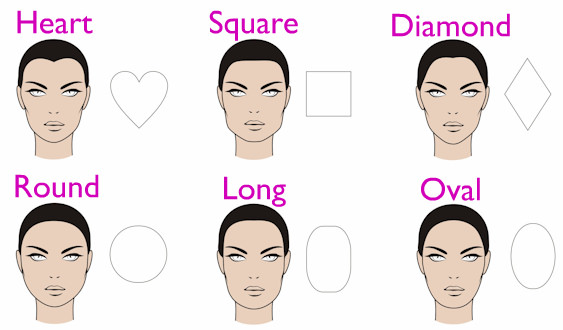 Grab a flexible measuring tape, a piece of paper and a pen (so you can take notes).

Measure the width of your forehead at its widest point.

Measure across your cheekbones to their widest point.

Measure across your jawline to its widest point.

Measure the width of your face by placing your tape directly underneath your eyes, measuring ear to ear. Make sure you stop measuring where your ears meet each side of your head.

Measure the length of your face by placing the tape at the top of your forehead, beneath your hairline, and measuring to the bottom of your chin.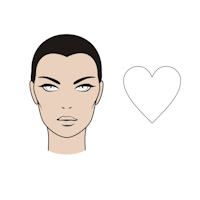 Your Face is Heart-Shaped If...
Your face is wider at the forehead and narrower at the jawline. Your chin may appear sharp or dramatically pointed.
Best Hairstyles for Heart-Shaped Faces
The hairstyles that are best for your sweet face should have onlookers focusing on your eyes and cheekbones, not your chin. Go sexy with side-swept bangs, fringe or choppiness along your brow line. Be bold with a strong middle or side part. Styles that fall at your jawline are also perfect for you. Pixie cuts and other shorter styles are ideal for heart-shaped faces, too. Soft, long layers that tickle your cheekbones are best if you're looking to go long.
Styles Heart-Shaped Faces Should Avoid
Whether you opt for a long or short style, always avoid a lot of harsh layers and super short, blunt bangs.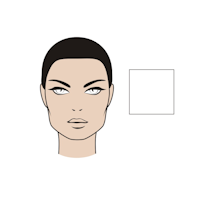 Your Face is Square-Shaped If...
Your face is strong, sharp and angular. Your jaw, cheekbones and forehead are also equal in width.

Best Hairstyles for Square-Shaped Faces
Soften your angular jaw by going for hairstyles with feminine texture (think curls, waves or fringed ends). Because your face is proportioned perfectly, you can go for those shorter, boyish cuts if you'd like, or even more girly, long bobs with bangs that sweep across your forehead.

Styles Square-Shaped Faces Should Avoid
Wider, blunt bangs and blunt bobs are not your face's best friends. Styles like these will make your angular facial features appear even sharper, creating a cold, unapproachable look.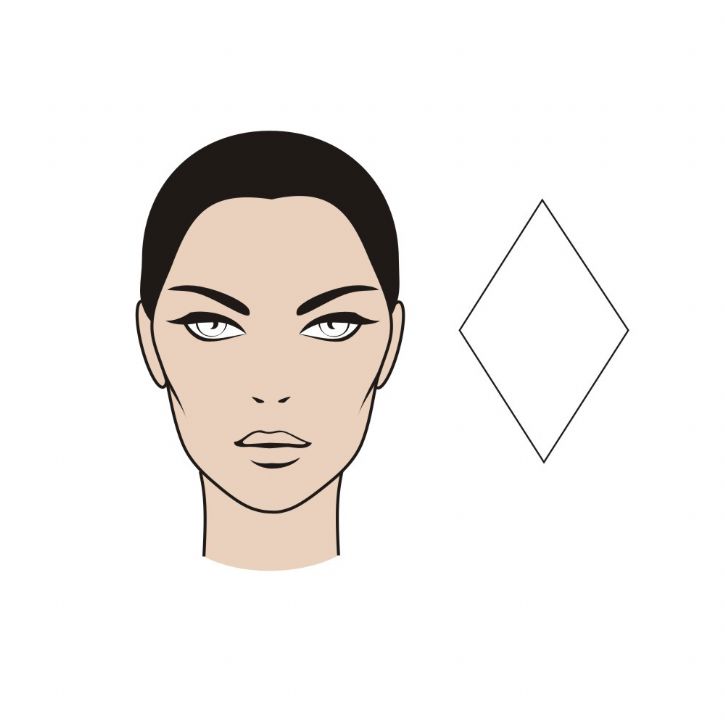 Your Face is Diamond-Shaped If...
Your cheekbones measure wider than your forehead and jawline. Your forehead and jawline measurements will also be equal or nearly equal.

Best Hairstyles for Diamond-Shaped Faces
Just as square-shaped faces can pull off a variety of hairstyles, so can you, sparkling diamond! The same hairstyles that look good on square-shaped faces, also look fabulous on you. Avoid the same hairstyles that square-shaped faces should avoid, and you'll be good to go.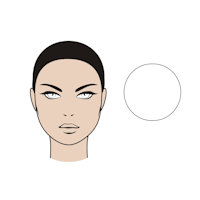 Your Face is Round-Shaped If...
Your jaw, cheekbones and forehead are equal in width. Your jaw should also appear rounded--not angular like a square-shaped face. Your facial features are softer and more feminine than a square-shaped face.

Best Hairstyles for Round-Shaped Faces
Even though your face appears soft (a babyface!) you should play up that softness by going for a shoulder-length hairstyle with graduated layers. This type of style will also help your round, cherub-like face appear a bit slimmer. Longer bob cuts with tapered ends will also remove more bulk from the sides of a round face, allowing it to appear more oval. Want bangs? Keep them long and to the side to create structure.

Styles Round-Shaped Faces Should Avoid
If you want a shorter style, avoid blunt-cut bobs. Got a shorter cut with curls? Grow out those locks all the way down to the shoulders--at the very least--to get rid of bulk around your already full face.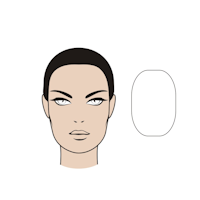 Your Face is Long If...
You think you have an oval face, but your face is actually longer than it is wide. Remember those measurements? Pay attention to them, because oval faces can get away with more styles than long faces can.
Best Hairstyles for Long Faces
Bangs, bangs and more bangs! These little babies are great for hiding a longer forehead and will make your face appear more oval. Side-swept bangs, blunt bangs and those that skim your brows all look great on you. To add width to your face, bobs that land at the chin are perfect for you. Dare to go wavy and curly as these textures also add width to your long face shape. If you really want to go long, make sure you work with layers. Your stylist should keep your hair longer in the back with sweeping layers that hit your chin.
Styles Long Faces Should Avoid
Too-short styles like pixie cuts and super long locks that fall past your shoulders will make your face appear even longer--so avoid these styles.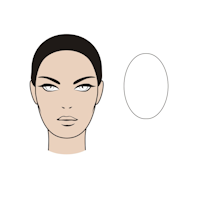 Your Face is Oval-Shaped If...
Your face length is 1½ times your face width. You probably didn't even have to measure your face, oh, pretty oval! You probably already know that most styles work well on you as you have the most versatile face shape.
Best Hairstyles for Oval-Shaped Faces
Shorter cuts. Bobs. Long hair that falls past your shoulders. Edgy, trendy hairstyles. Straight. Wavy. Curly. You name it and you can pull it off. But if you really want to know what looks the absolute best on you, think about what your best facial feature is and then play it up with your cut. Talk to you stylist first to get an expert opinion on what might look the most flattering.
Styles Oval-Shaped Faces Should Avoid
Though oval-shaped faces can go for any styles and still look great, short layers that add bulk to the top of your head will make your face appear longer. Have thick, coarse or curly hair? Leave extremely short, blunt cuts alone.

You can use sites like Tazz and Hollywood Makeover to try on different hair styles before you head to the salon. That way you'll be able to communicate clearly with your stylist and get exactly the cut you want.