Dr. J. Scott Smith of Kansas State University in Manhattan recently studied Heterocyclic Amines (HCA's), which are carcinogenic compounds that form when meat is cooked at high temperatures. He found that adding rosemary extract to ground beef reduced the amount of cancer-causing compounds created during grilling. He attributed this to the antioxidants found in the rosemary extract. Smith reported that Rosemary extract is very expensive and therefore recommends adding whole, crushed, or ground rosemary before you grill your meats. Rosemary can be added to ground beef or rubbed onto the surface of steak, pork chops, chicken or fish.

Action Sparked: Add whole, crushed, or ground rosemary to your favorite meat recipes to help reduce the amount of cancer-causing HCA's that are produced during grilling. Other cooking tips to decrease HCA's include:
Use lean cuts of meat and poultry, remove skin, and trim off the fat before cooking.
Thaw frozen meat in the refrigerator before cooking.
Cut meat into small pieces.
Before grilling or broiling, pre-cook meat in the microwave for 2-5 minutes.
Marinate your meat.
Do not use the high setting on your grill.
Place the grill rack or broiler pan in a position away from the heat source.
Avoid eating blackened or charred meat.
Line the grill with foil and cut a few slits so the fat can drip away without allowing the smoke to waft onto the meat.
Try this Mediterranean Rosemary Rub Recipe:
Zest of 2 lemons
1/3 cup thinly sliced garlic cloves
1/3 cup fresh rosemary leaves
1/4 cup fresh sage leaves
1/4 cup coarse ground black pepper
1 Tablespoons salt
Combine in the bowl of a food processor. Process until the garlic, herbs and lemon zest are chopped finely and ingredients are thoroughly combined. Store tightly covered in the refrigerator. When ready to grill, rub a thin coating on the surface of steaks, pork chops or chicken breasts. Makes 1 cup.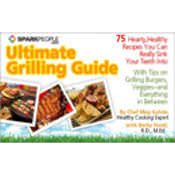 Need more great grilling ideas? Check out our e-book, ''SparkPeople's Ultimate Grilling Guide: 75 Hearty, Healthy Recipes You Can Really Sink Your Teeth Into.'' Get it on Amazon.com and get grilling!