Summer is almost here, and that means outdoor parties and cookouts with friends and family. If you're trying to eat healthier, it can seem hard to find good choices at the picnic table. But you don't have to hide out until September just to resist temptation. Whether you're a host or a guest, you can enjoy the best of barbecue season without padding your waistline. Use this guide to choose food that's light, healthy and refreshing at any backyard blowout.

Burgers 'n Dogs
Hamburgers and hot dogs are a big part of summer eating but they don't have to be a diet disaster. Start with a 100% whole wheat bun instead of white for a healthy dose of fiber and watch the fat content of the meat. The average beef and pork hot dog contains about 180 calories and 17 grams of fat before you add a bun and toppings. Turkey dogs are tasty and won't sabotage your diet—you can have two of them for less than100 calories. If you're going for a burger, stay away from the high-fat toppings like cheese, mayo and bacon. Choose cheese slices made with skim milk to reduce the fat content and load your burger with mustard and fresh veggies instead. Here's the burger 'n dog breakdown:


Worst

Better

Best

Hamburger patty (4 oz)

290 calories
22g fat

Turkey burger patty (4 oz )

160 calories
9g fat

Veggie burger patty (2.5 oz)
110 calories

4 grams of fat

Bratwurst (4 oz)
300 calories

25g fat

Beef hot dog (2 oz)
180 calories

17g fat

Turkey dog (2 oz)
45 calories

5g fat

Swiss cheese and sautéed mushrooms

150 calories
13g fat

Cheese, lettuce, tomato,
onion, pickles, ketchup, mayo and mustard

131 calories
9g fat

Lettuce, tomato, ketchup, pickles and mustard


25 calories

0g fat

Buttered bun
160 calories

6.5g fat

Whole wheat bun
110 calories

1.5g

fat

A lettuce leaf
5 calories

0g fat


Chips, Salads & Sides
If potato salad is your downfall, make your recipe healthier by leaving the skins on the potatoes (for more fiber and nutrients) and choose nonfat Greek-style yogurt instead of mayo. Make creamy cole slaw more waist-friendly by reducing the fat in the dressing by swapping plain low-fat yogurt for half the mayo. Baked beans are usually a good choice, but opt for vegetarian varieties that aren't made with bacon, if possible. If you want to avoid the creamy salad temptations completely, fill your plate with fresh grilled vegetables. Spray chunks of red peppers, yellow squash, zucchini and eggplant with canola oil spray and grill them on the barbecue. Add freshly ground pepper and a dash of balsamic vinegar for extra punch.

When it comes to dips, look for vegetable and fruit-based choices like guacamole (made from avocado fruit) and salsa (made from tomatoes and veggies). These pack healthy nutrients that creamy dips often don't.


Worst

Better

Best

Potato salad (1/2 cup)
179 calories

10.3g fat

Cole slaw (1/2 cup)
150 calories

8g fat

Vegetarian baked beans (1/2 cup)
100 calories

1g fat

Ranch dressing (2 Tbsp)
180 calories

18g fat

Guacamole (4 Tbsp)
100 calories

8g fat

Salsa (1/2 cup)
60 calories
0g fat

Potato or tortilla chips (1 oz)
150 calories
10g fat

Pretzels (1 oz)
110 calories

2g fat

Raw vegetables (1 oz)
16 calories

0g fat


Drinks
Calories from beverages can add up fast. And new research on artificial sweeteners shows that even diet soda, although calorie free, can result in weight gain. When it comes to liquids, water is the only thing your body needs. But when it comes to grilling out, most people like to drink something both flavorful and refreshing. Use the chart below for some sweet ideas when you want something besides water.


Worst

Better

Best

Lemonade (8 oz)

120 calories

Sweet tea (8 oz)
100 calories

Water with lemon (8 oz)
4 calories
or
Unsweetened tea (8 oz)

2 calories


Pies & Desserts
Berries make fresh, nutritious choices for summer and spring, but the way they're prepared can often add way more sugar than these naturally-sweet fruits need. Go for fresh fruit (like watermelon slices or fruit salad) as a healthy guilt-free dessert. Can't resist that cake or pie? Pile on the fresh berries and fruit and try just a taste of the cake, whipped cream or other dessert.


Worst

Better

Best

Blueberry pie (1/8 of pie)

473 calories

19g fat

Strawberry shortcake with whipped cream and sweetened strawberries (2.5 oz)
325 calories

8g fat

Angel food cake (2 oz) with fresh strawberries (1/2 cup)

120 calories
0g fat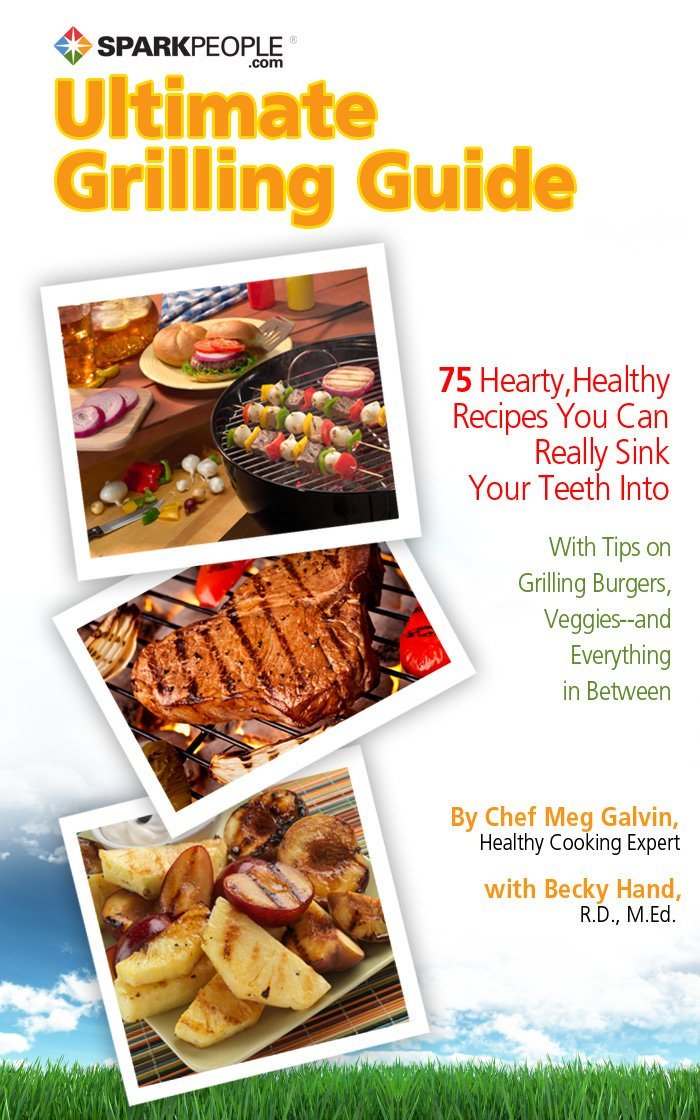 Need more great grilling ideas? Check out our e-book, ''SparkPeople's Ultimate Grilling Guide: 75 Hearty, Healthy Recipes You Can Really Sink Your Teeth Into.'' Get it on Amazon.com and get grilling!