Its lunchtime at the office and you're hungry. Your morning has been stressful, and your co-workers are pooling their money for some fried take-out from the local burger joint. You decline their invitation (even though comfort food sounds particularly comforting right now), and instead sit down with the healthy lunch you brought from home, complete with whole grains, lean proteins, raw vegetables, and lots of water. You know you have an afternoon full of meetings, phone calls, and errands, and the fiber and vitamins will carry you through your to-do list valiantly. Congratulations, you made a responsible adult decision, which will benefit your energy levels and probably your long-term health. Do you think you would have made the same decision in the lunch line in grade school?

Kids in school face complicated lunchtime decisions on a daily basis. What a child eats for lunch at school not only influences their energy levels in math class but also sets the stage for adult eating habits. Too many wrong decisions can be a recipe for a nutritional disaster. But if you use lunchtime decision-making as a teachable moment, you can help your child learn to make nutritionally sensible decisions. Whether your child chooses to pack or to buy, here's what you both need to know about lunchtime nutrition.

Buying Lunch
Although school lunch has gotten a bad rap in the past for being too high in fat and too low in nutrient-rich fruits and veggies, school lunch standards have been making steady improvements over the past few years. Thanks to the Healthy, Hunger-Free Kids Act, led by first lady Michelle Obama and Agriculture Secretary Tom Vilsack, lunch is looking better than ever. Effective in fall of 2012, the guidelines include an increase in leafy greens and whole grains and a decrease in sodium levels, saturated fats, and trans fats. The changes also feature the first national calorie limits for cafeteria meals and stricter guidelines for vending machines and a la carte options. These are all huge milestones that were no easy feat to accomplish.

Even before the recent regulations, schools all over the country were voluntarily implementing healthy changes for years, such as incorporating local and organic produce, growing on-site vegetable gardens, and banning fast food and vending machines. However, these changes varied from school to school, so it's great to see a higher standard being set for all school districts across the country.

Though it does appear that things are looking up for school lunches, there is always room for improvement. For example, sugary fruit juices and (fat-free) flavored milks are still on the menu, and starchy potatoes and corn still count as veggies (although they are now limited in how often they are served). Plus, kids get to choose one fruit or one vegetable at lunch, which hardly adds up to the ''half a plate'' of produce per meal that the USDA MyPlate recommends. But even so, the changes are definitely a step in the right direction. SparkPeople's Registered Dietitian, Becky Hand, states that most school lunches under these new guidelines are balanced, healthy options for kids--and are often much better than what they would receive at home.

Speaking of home, that's where nutrition really starts. Here's what you can do to help your child choose a healthy lunch when they're buying:
Feed them breakfast. If their stomach is growling in homeroom, they'll be more likely to load up at the vending machines. If you don't have time to feed them a home cooked breakfast, try natural peanut butter on a whole wheat bagel and an apple, or a smoothie with soymilk, frozen bananas and peanut butter.

Talk to your child about healthy food choices. Help them to realize that it's ok to like candy and fast food, but that doesn't mean they should be an everyday treat.

Lead by example. This may be the most effective way to teach anyone anything, albeit the most difficult. The next time you're out to eat with your child, explain why you choose to order the garden burger instead of the hamburger with cheese, or the chicken salad instead of the fried chicken. Kids are sponges—use it to your (and their) advantage.

Discuss the cafeteria menu with your child, preferably before you're rushing out the door in the morning. You can help them learn which options are healthier, and talk about the importance of fruits and vegetables. If they don't like what's on the menu, then they'll have time to pack instead.

If you are unhappy with your child's school menu options, talk to the school lunch coordinator. Many cafeteria menu makeovers started with just one parent.
Source

United States Department of Agriculture. "Nutrition Standards for School Meals," accessed August 2012. www.usda.gov.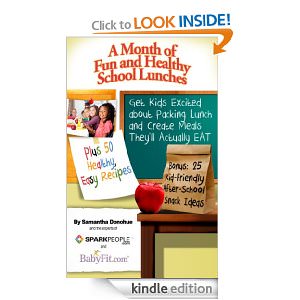 Want to get kids off to a healthy start this school year? So does SparkPeople! With "A Month of Fun and Healthy School Lunches," you'll end the food fight and get kids excited about packing lunch--with fun yet simple meals they'll actually eat. Written by a mother of three, with 50 easy and healthy recipes plus plenty of ideas tested by real moms in real life, this e-book turns lunchtime into fun time! Bonus: You'll also get 25 healthy, kid-friendly after-school snack ideas! Click here to check it out!