For many, breakfast is one of the most important meals of the day. After (hopefully) spending eight hours sleeping, breaking your fast with a well-balanced, healthy meal is a great way to start your day. But what if you just don't have enough time in the morning to put together something nutritious and delicious? Luckily, there are many breakfast options that come together in no time, so you have no excuses to skip your morning meal.

Here are some of our favorite ways to fit in a healthy breakfast in just 10 minutes or less.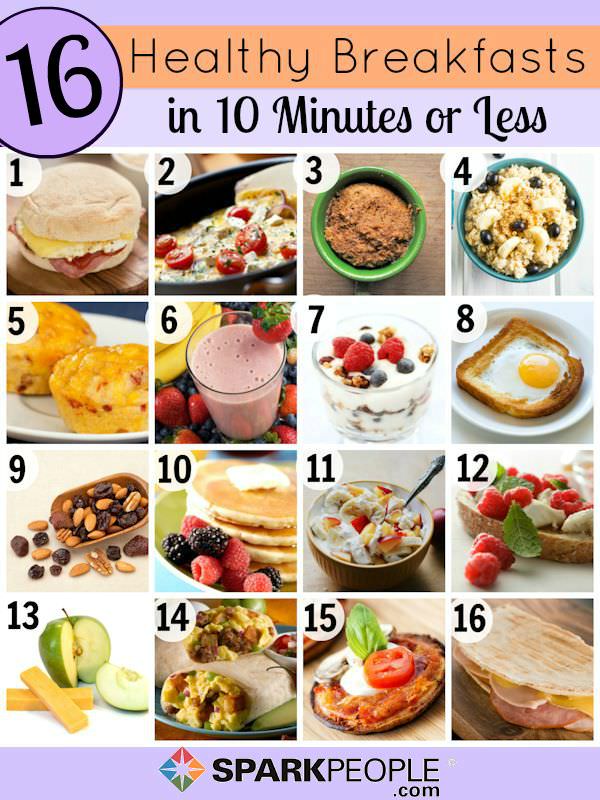 1. Make a quick breakfast sandwich: Scramble a couple of eggs and fry up a slice or two of turkey bacon. Layer on a toasted whole-grain English muffin with a little spinach for some green.

2. Whisk two eggs in a small bowl and pour them into a hot skillet to make an omelet. Fill it with any veggies—onions, tomatoes, spinach, bell peppers and kale all work great. Sprinkle on a little bit of cheese and your favorite seasonings. For an extra boost of protein, toss in some chicken, turkey or tofu.

3. Forget mixing up a batch of muffins; make a single-serving muffin in a mug in under two minutes.

4. Cook a batch of oatmeal on the stove or even in the microwave to save time. Add raisins, chopped nuts, cinnamon and any other mix-ins of your choice. You can even take it in a thermos to eat at your desk.

5. Make eggs in the microwave! Whisk together two eggs, a sprinkling of cheese and a tablespoon of milk in a mug, along with your choice of seasonings. Microwave, stirring every 20 seconds until the eggs are almost cooked through.

6. Blend up a protein-packed smoothie with a cup of your favorite frozen fruit, a cup of regular or Greek yogurt and 1/2 cup of your choice of milk (you can use more or less depending on how thick you'd like your drink).

7. Layer a pretty parfait in a glass with your favorite granola, yogurt and chopped nuts. There are endless combinations to this simple and sweet breakfast!

8. Make an "egg in a basket" by cutting a hole in the center of a piece of toast with a cookie cutter. Fry the toast in a lightly greased skillet, cracking an egg into the hole. Cook on both sides until egg has set.

9. Mix up your own trail mix using your favorite dried fruits, nuts and whole-grain cereals. Toss it in a baggie and grab a banana on the side. It's an instant breakfast full of fiber and healthy fats.

10. Pancakes are usually reserved for a leisurely weekend breakfast, but you can save on time by making a single-serving version on weekdays. Just mix together two egg whites, half a mashed banana and two tablespoons of flax meal with your favorite sweetener. Cook on a hot griddle and you're done!

11. Chop up a serving of your favorite fruit and mix it into 1/2 cup of low-fat cottage cheese. Top with chopped nuts and a sprinkle of granola.

12. Whole-grain toast can be a vehicle for tons of healthy toppings. We love almond butter and sliced bananas or low-fat ricotta cheese with smashed raspberries. You could also go the savory route and toast two slices in the toaster oven, then top with ham and cheese.

13. Make a mini cheese plate with a serving of your favorite fruit, an ounce of flavorful cheese and a serving of whole-grain crackers.

14. Scramble two eggs with some ground turkey and your favorite veggies and seasonings. Drizzle with hot sauce or salsa if desired, and wrap in a whole-grain tortilla for a hot and hearty breakfast burrito.

15. Who says you can't eat pizza for breakfast? Top two English muffin halves with tomato sauce, a sprinkle of cheese and your favorite pizza toppings. Pop it in the toaster oven until cheese is browned and bubbly.

16. Whole-grain pita bread is a quick and easy vehicle for all kinds of goodies. Turkey lunch meat and cheese stuffed inside a toasted pita is a protein-packed breakfast in a pinch. For a sweeter option, spread the inside of the pita with peanut butter, stuff with banana slices and drizzle with honey.