Weight-loss and fitness buddies can be a great source of support as you work toward your goals. They can provide encouragement and motivation, and be there for you when you need a kick in the pants to get to the gym or bypass dessert. Maybe your buddy is a friend, co-worker or someone you met at SparkPeople. But have you ever thought about asking your mother or daughter to be your buddy? In honor of Mother's Day, we found a number of mother-daughter "buddies" who are using SparkPeople together to become healthier. Some have been surprised by the relationship they've developed and how key it's been to their success so far. Here are their stories!

Sandee and Cindy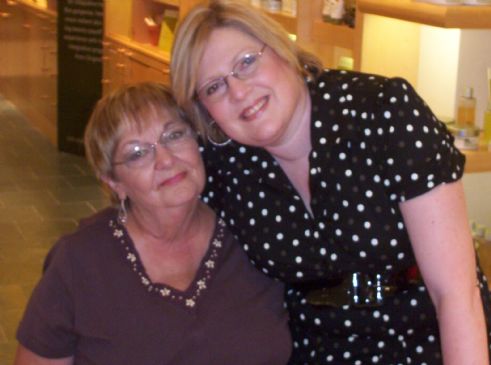 Sandee (SANDEEKAY02) and her daughter Cindy (SINGLEMOMMO) have been members of SparkPeople since October 2007. Sandee has lost 32 pounds and Cindy has lost 40 pounds since joining the site. Both say it was a natural decision to buddy up because they are best friends and support each other in all aspects of their lives. They are on a number of the same SparkTeams and interact regularly on the site. Sandee and Cindy exercise together at Curves and also cook and share recipes they find on SparkRecipes.com. Plus, Cindy's daughter is a member of SparkTeens.com, so now the whole family is living healthy!

When asked about pairing up to lose weight, Sandee said, "As far as Cindy and I are concerned, it's natural and helpful to do this together because as we do everything together and share our lives together."

"Having a support system is the only way to change your lifestyle," says Cindy. "I don't think of this as a diet, but in fact a lifestyle change. If I am faced with a temptation and my mom is with me, I think twice about it. We have a loving competition between us. It helps to keep us on track!"

Deb and Jennie


Jennie (JENNIFER8998) has been a member of SparkPeople for more than 3 years. After her mom Deb (DEB2448) saw her successfully lose 40 pounds, she decided to join the SparkPeople herself. They live in different states, so teaming up online was a great solution for them to stay in touch and keep each other on track. They started their own SparkTeam a few months ago (Creative Challenges and Saintly Souls) and already have more than 50 members. When Jennie is home visiting her mom, she and Deb cook, track their food and go grocery shopping together.

"It helps having my daughter on SparkPeople, because she understands all that goes into weight loss success the way other people don't," says Deb. She gives Jennie SparkGoodies when she needs a virtual pat on the back.

When asked if she would recommend that women turn to their mothers, sisters or daughters for support like this, Jennie responded, "If you have a healthy and open relationship, I think it is great! SparkPeople allows you to clearly state your goals, and gives you a way to measure progress. If I tell my husband I'm out of my calorie range, he gives me a blank look. But my mom says, 'That's all right! We can do this together!' and she knows exactly what I am talking about."

Andi and Beulah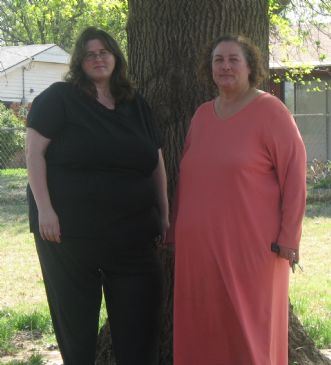 Andi (AKERUE) started with SparkPeople in October 2007. She started feeling better and encouraged her mom Beulah (BJUMPINGFORJOY) to join her. Andi has lost 60 pounds and Beulah has lost 94 pounds so far! Andi and Beulah swim together, discuss recipes and interact on the Moms and Daughters SparkTeam.

Beulah says she never thought she and her daughter would end up as weight-loss buddies. "I thought I would be in a wheelchair by now. With her encouragement to join SparkPeople and the great support here, I've gotten healthier," says Beulah.

Andi says she's surprised she and her mom have ended up on SparkPeople together. "I am a really private person and prefer to do most things alone. So when I opened myself up to SparkPeople it was a totally out of character move for me. Then when I told my mom about it, it opened a lot more communication about health and weight-loss between us. It really gave us both positive results and we enjoy sharing our experiences with each other. I also have seen a competitive side of my mom that I didn't know was there. It is hysterical! She is one tough cookie," says Andi.

Jessica, Vivian and Lisette




Vivian (BEMORESTUBBORN) and her daughters, Jessica (JYBEDOYA) and Lisette (LISETTE44) have all had amazing success. Vivian joined the site in 2006 and soon after, convinced her daughters to join. Vivian has lost 50 pounds since changing her lifestyle five years ago; Jessica has lost 50 pounds and Lisette has lost 85 pounds using SparkPeople.

Vivian says she's found that being a mother-daughters team gives hope to other members on the site. "I'm frequently asked for advice on how to get family members to join one's weight loss efforts. My answer is always the same: Set a good example by your actions, give your goals your all, and the rest 'may' follow. Some people are not ready to commit to the discipline and to the work that a lifestyle change requires, no matter how much support they have. It has to come from within. On the other hand, sometimes you have to kick someone in the tush to get them to see that they have a problem and offer all the help, support and prodding they need to get started," she says.

When asked if she ever thought her mom or sister would become her weight-loss buddy, Jessica responded, "Never! All of our plans were centered around good food and plenty of it. The running joke at home was that my mom's breakfast of champions was two chocolate donuts and a Diet Coke. My sister had been overweight since she was a little girl, so we just believed the myth that she was 'big boned.' I had been thin until I turned 18, then started packing on the pounds like never before. I think we gave up at some point until mom was brave enough to surprise us all!"


When asked if she would recommend women turn to other women for support, Lisette says, "Absolutely. If you are as blessed as I am, there are no better people to do it with! There are no two women I trust more than my mother and sister; this has added to our already strong bond."


At SparkPeople, we don't believe anyone should go it alone. In fact, we strongly encourage members to make their goals public, find support from people in their lives, and use SparkPeople's online community to boost their chances of success. No matter what your goals may be or how they might differ, there are numerous advantages to having your mother, daughter, sister or other female family member as a weight loss or fitness buddy. As trusted loved ones, they've seen you through the good and bad. They know your strengths and weaknesses, what motivates you, and how to best support you when things get tough. When you ask your own mom or daughter—someone who already know so much about you—to be your goal buddy, she can give you a special kind of support that others might not be able to.

This Mother's Day, consider all the special women in your life you can rely on. Invite them to join in on your SparkPeople adventure—for your health and theirs! Having "real life" buddies as well as online support will only increase your chances that the lifestyle changes you're making will be permanent!