When it comes to losing weight and getting in shape, enlisting a buddy to support you won't just make the process easier—it will also makes it a lot more fun! Buddies are great for giving encouragement and advice along your healthy lifestyle journey. The more you surround yourself with people who support your goals, the greater your chance of success will be. Your buddy can be part of that support system—someone who gives you a boost when you need it, and whom you can lend a hand to in return.

So how do you go about finding the right buddy for you? Whether you're looking for someone with similar goals, a fitness buddy to work out with, or a person with a committed attitude, there are a number of ways to find a buddy right here on SparkPeople. Here's a rundown of easy ways to find your next fitness, motivation or weight-loss buddy at SparkPeople!


1. Use the SparkPage Buddy Finder. On the main SparkPages section of the site (under the Community tab) is our Buddy Finder. You can narrow your search based on location, age or goals and click "Search SparkPages" to find all the members who match your criteria. After you browse through the search results and find someone who looks like a good fit, contact the person by leaving a comment on his or her SparkPage or by sending a SparkMail or SparkGoodie. You can also add the person to your friends list (for easy access in the future) by clicking the "Add as a SparkFriend" button on the top of his or her SparkPage.

2. Make your SparkPage Searchable. If you want people to find you when using the SparkPages Buddy Finder (#1 above), you have to add yourself to the directory. To do so, go to Edit My SparkPage and locate the "SparkPage Search Options" at the top left of the page. Use the checkboxes to allow people to search for you based on your location, weight-loss goal, gender, age, and goals & interests. Only check off the options that you feel comfortable with sharing, and then click "Save Changes" to be included in the Buddy Finder directory. Then, if someone does a search for 21-30 year olds who want to lose 50 pounds, for example, your page will come up in their search results. This is a great way for others to find you.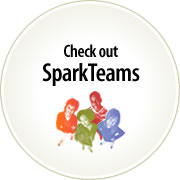 3. Get Involved in Your SparkTeams. SparkTeams are a great way to find other members with similar goals and interests. There are thousands of Teams to choose from, with topics ranging from weight-loss goals to medical conditions, age, lifestyle interests, geographic location and more. SparkTeams are an easy way to find support from a larger group of like-minded people, but getting involved in your Team can also help you get to know members on an individual level, too. As you spark new friendships, that group support could turn into one-on-one support! You probably joined some Teams when you registered for the site (click here to see all of the SparkTeams you currently belong to). If you'd like to find more Teams that interest you, go to the main SparkTeams page (under the Community tab) to browse or search from thousands of Teams. To get involved, visit your SparkTeams pages regularly, post to introduce yourself forum, and join the conversations on your Team message boards.

4. Find Someone in Your Area. You were probably placed into your local SparkTeam when joining the site, but if you don't find a state or city Team on your SparkTeams page, you can search or browse for your local SparkTeam here. There are Teams for nearly every country, state, city and region in the world. So if you're hoping to find a "real life" fitness buddy, start by joining your local SparkTeam and posting there. Starting a new message titled "Looking for a fitness buddy in Columbus, OH, will capture the attention of people in your local Team. And maybe your perfect buddy will be ready and waiting for you!


5. Share Support on the Message Boards. You can learn a lot about other members from the posts they make on the Message Boards (located under the Community tab). You might find someone who is facing similar struggles in the Staying Motivated forum or a member who wants to take up running like you do in the Fitness and Exercise forum. After introducing yourself, you'll probably get several replies from helpful members who are welcoming you and helping to answer your top questions. Who knows? Any one of these people could turn into your online buddy! SparkPeople's Message Boards are a great way to interact with the Community and find new friends. If you see someone who looks like they might make a good buddy, don't be afraid to SparkMail him or her or reply in the message board thread to ask!


6. Add to Your SparkFriends. Near the center of your SparkPage, you'll see a section for SparkFriends. The easiest way to add someone to your friends list is to click the "Add as SparkFriend" button, which you'll find when you visit that person's SparkPage. This might be someone you've met on a Team, someone who was helpful and answered one of your posts on the Message Boards, or just someone who inspires or interests you based on his or her SparkPage. Don't be shy about adding new people to your SparkFriends list. Most of the time, the person you add will usually add you to their list, too, or send you a message thanking you for "the add!" If you're looking for a buddy, consider looking to your SparkFriends first!

When it comes to finding support to reach your goals, one thing is clear: The more you interact in our positive Community, the more likely you are to find a buddy (or several!) and get the support you need—whether online or in real life. Just like you, everyone at SparkPeople wants to transition to a healthier lifestyle as smoothly as possible—and they're ready to give and receive support and motivation. So take advantage of these Community features to find buddies, expand your support network and build lasting friendships on the site.

When times get tough, it's nice to have a buddy to lean on. When things are going well, that same person can celebrate with you. So don't be afraid to ask some SparkPeople members if they'd like to buddy up today!