Running or walking a 5K (3.1-mile) race is a fun and realistic goal for exercisers of all fitness levels. If you're ready to train for your first 5K, but not sure where to start, don't worry! SparkPeople's certified trainers have created three different training programs to help walk or run a 5K based on where you are right now!

Our 5K Your Way Challenges provide daily workouts, tips to make the most of your training experience, and support from other members who are following the same plan. Choose from three training programs (walking, walk/jog intervals, running)! You can also progress from one program to the next, starting with walking and then moving to walk/jog intervals and then to running, as a safe way to slowly increase your level of fitness. Click on a plan below to get started today!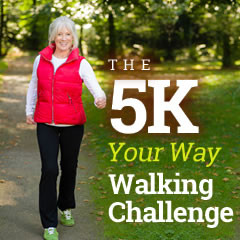 5K Your Way Walking Challenge
If you want to walk your first 5K, or are newer to fitness, this plan is for you. You should be able to walk for 15 continuous minutes before starting this training plan. If that sounds like you, then get ready to walk a 5K in less than 5 weeks by following this plan! (Need help getting there? Start with this walking challenge first.)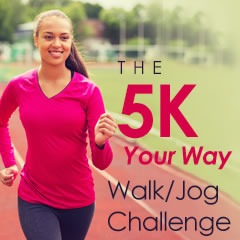 5K Your Way Walk/Jog Challenge
This intermediate training program uses walk/jog intervals. It's perfect for exercisers who can already walk for 25-30 continuous minutes, and want to start incorporating running into their workouts. If that sounds like you, then get ready to walk/jog a 5K in less than 5 weeks!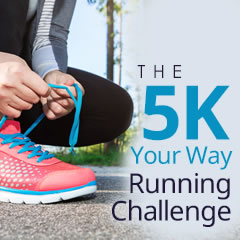 5K Your Way Running Challenge
Are you ready to go from walk/jog intervals to running a 5K? This program is perfect for casual runners who can already walk/jog for 30 minutes and are ready to kick things up a notch. Follow this plan to run a 5K in less than 5 weeks!