Planning a racing road trip, or just daydreaming? If you're going to commit to training—and potentially traveling—for a race, it should be worth your time, money and sweat. We hand-picked some of the most scenic courses in the country, choosing one event for each state. From oceanfront 5Ks to mountainside marathons, these breathtaking races prove that the journey really does trump the destination.

Alabama: Russell Forest Run
Distance: 10K, 5K
Month: February

Runners seeking an alternative to the same old road races will appreciate the softer terrain of this scenic Alabama course. "The Russell Forest Run gives runners a different look from the traditional, flat-street run," said race organizer, Robert Gunn, in a statement on the event's website. "The course, constructed of clay, sand and gravel, was designed for electric cars and bicycles and is much softer and more forgiving than asphalt." Participants will follow rolling hills along Lake Martin, set against a stunning backdrop of creeks, streams, pines and hardwoods. Proceeds from the race help to fund educational tools for the Alexander City School System.

Alaska: Anchorage Run Fest
Distance: 49K, Marathon, Half Marathon, 5K, Mile, Kids' 2K
Month: August

Pick a distance, any distance. The Anchorage Run Fest is a potpourri of multi-level courses, each just as gorgeous as the last. The marathon (which can also be walked or relayed) boasts stellar views of the Alaska Range, Chugach Mountains and Aleutian Range. During the half, participants start in downtown Anchorage before joining the Coastal Trail, which runs alongside the Westchester Lagoon at Margaret Eagan Sullivan Park. The 5K offers a breathtaking view of Mt. Susitna, a prominent Alaska landmark known as "Sleeping Lady." An abundance of post-race activities await, from mountain climbing and biking to fishing, rafting and more.

Arizona: Sedona Marathon
Distance: Marathon, Half Marathon, 10K, 5K
Month: February

Billed as one of the country's most beautiful races, the Sedona Marathon runs along Dry Creek Road, a popular route for scenic drives. The striking red rock formations—coupled with bright blue skies and luminescent sunsets—makes the road a haven for nature photographers. Runners can expect rolling hills along each of the four courses, although there's plenty of flat terrain in between.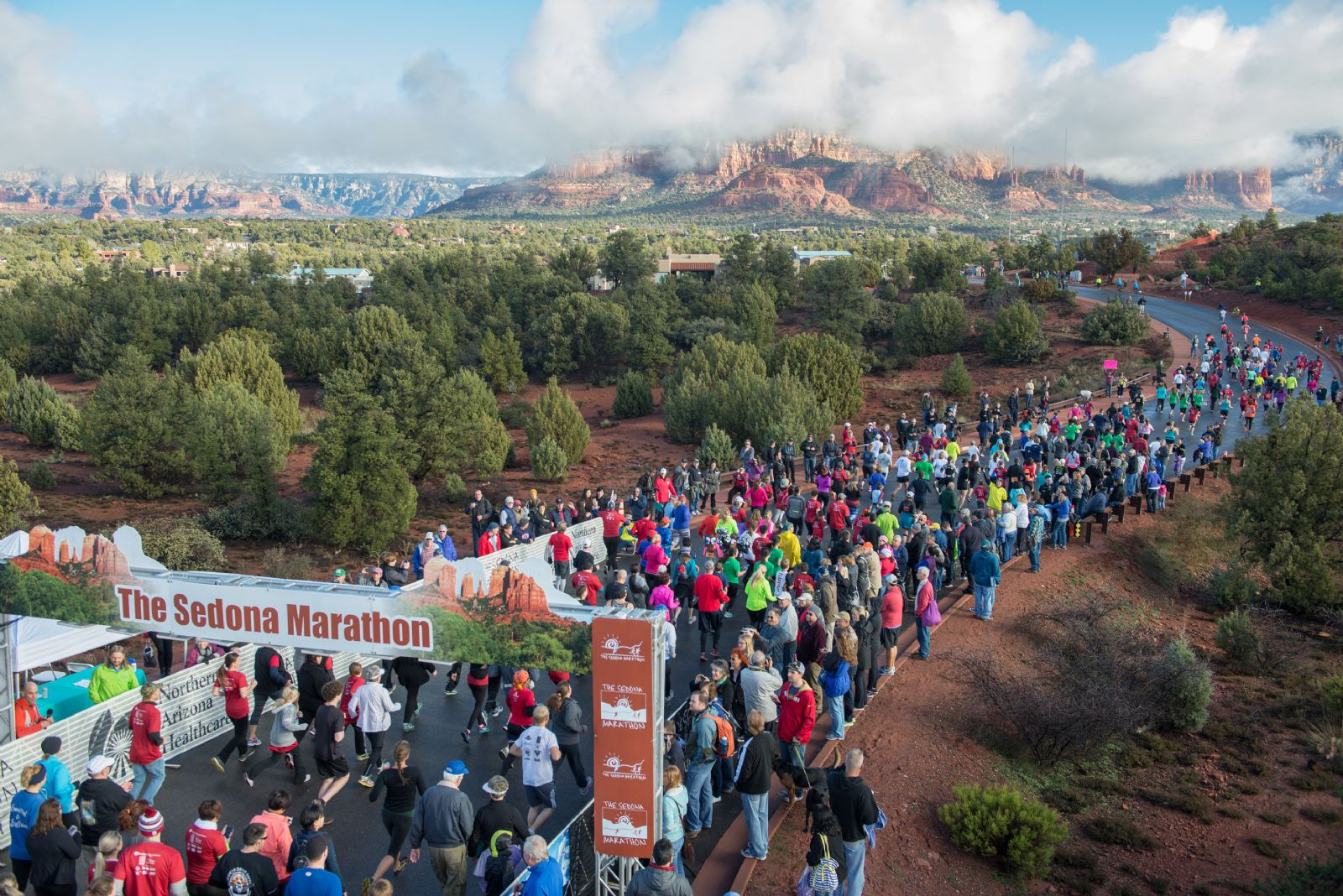 Image Credit: Sedona Marathon

Arkansas: The River Trail
Distance: 15K
Month: February

Organizers of the The River Trail 15K call it the most scenic race in the Arkansas Grand Prix Racing Series. Most of the flat, fast race runs along the Arkansas River Trail, which offers stunning views of both sides of the river. The 100% paved course carries participants along the White Bayou Trail, through the woods of Emerald Park, into Riverview Park and into Old Rock Quarry Burns Park. Bonus: You'll get to cross a scenic wooden bridge, and who doesn't love bridges?

California: Emerald Bay Trail Run
Distance: 7.5 Miles (12K)
Month: September

There's no disputing the pristine beauty of Lake Tahoe, and no better vantage point than the Emerald Bay Trail Run. Competitors will start at Eagle Point, then run around Emerald Bay, up the west shoreline of Lake Tahoe and along the Rubicon Trail to Lester Beach. Given its scenic beauty, it's easy to see why the Emerald Bay State Park has been designated as a National Natural Landmark. Before or after the race, treat yourself to the area's aquatic activities, scenic hikes or rugged biking trails.

Colorado: Garden of the Gods
Distance: 10K, 10 Miles
Month: September

It's easy to see how the Garden of the Gods got its name: This 1,367-acre public park, which is a National Natural Landmark and ranked the number one park in the United States (per TripAdvisor), is marked by ethereal beauty. During the 10-mile race, runners will meander among countless rock formations, including the famous Balanced Rock perched precariously on a granite slab. Other sights include swaying grasslands, mountain forests and juniper woodlands. When you run Garden of the Gods, you're not just logging miles on a challenging, hilly course; you're witnessing a natural wonder that has taken 300 million years for nature to create.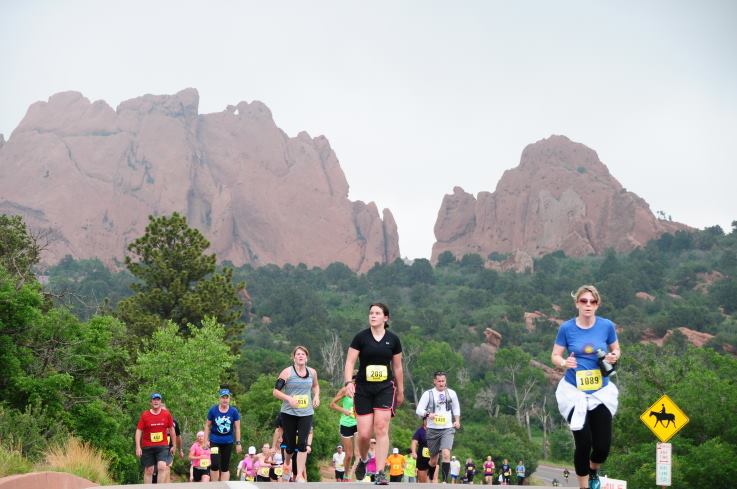 Image credit: Garden of the Gods

Connecticut: Kent Pumpkin Run
Distance: 5 Miles
Month: October

A small, friendly town with just one traffic light and a population below 3,000, Kent welcomes many out-of-towners for its annual Pumpkin Run. Most runners would agree that autumn is the prime season for pounding the pavement—not just for the crisp, temperate weather, but also for the backdrop of vibrant foliage. The Kent Pumpkin Run takes full advantage of New England's bright fall colors, treating participants to a scenic five-mile course that starts and ends at Kent Green in front of the town hall. Before and after the race, participants can visit one of the three state parks within town or enjoy aquatic activities on the Housatonic River.

Delaware: XTERRA White Clay Races
Distance: 10K, 21K
Month: May

White Clay is third in the five-race XTERRA Trail Run Series, which is part of the larger, national XTERRA Atlantic Series. Set in White Clay Creek State Park, the 10K and 21K courses are marked by rolling hills, rushing creeks, sparkling streams and open fields. Throughout the race, your spectators may include a variety of wildlife. White Clay Creek visitors can also hike or bike through a network of trails, soak in valley views from scenic overlooks, and enjoy abundant fishing, golfing and birdwatching.

Florida: Key West Half Marathon and Hemingway Sunset 5K
Distance: Half Marathon, 5K
Month: January

The famous novelist Ernest Hemingway once said, "I want to get to Key West and away from it all." Given the island's tropical climate, panoramic ocean views and relaxed coastal vibe, the appeal is understandable—and likely has a lot to do with why runners come from all 50 states and 14 countries to run the Key West Half Marathon and Hemingway Sunset 5K. The course meanders through the historic Old Town and along the waterfront, dotted with palm trees and set against bright blue skies. Those looking to escape harsh winters will enjoy this balmy and beautiful race at the southernmost tip of the Florida Keys. Don't forget to visit Hemingway's house across from the Key West Lighthouse!

Georgia: Xterra Georgia Thrill in the Hills
Distance: Marathon, Half Marathon
Month: February

For runners seeking an adventurous Southern race, the Xterra Georgia Thrill in the Hills won't disappoint. Set in northern Georgia's Fort Yargo State Park, the course begins lakeside and then follows gently sloping trails through the woods. Although the trails are well-maintained, the race description points out some tree roots and technical sections. If the challenging course doesn't take your breath away, the stunning scenery will. From the park's namesake historical fort to the sparkling Marbury Creek Reservoir lake, the race offers no shortage of eye candy. Escape the hustle and bustle of city life, without leaving the city!

Hawaii: The Hapalua Half Marathon
Distance: Half Marathon
Month: April

Amazing scenery isn't hard to find in Hawaii, but the Hapalua Half Marathon serves it up on a tropical platter. Runners start off in Waikiki, then head into Chinatown and Downtown Honolulu, circling back around Diamond Head (Oahu's extinct volcano) and finishing at Kapiolani Park. Although most of the fully paved course is flat, there is one challenging mile-long hill known as Monsarrat. As one reviewer points out, "the ocean and beautiful sunrise from the heights of Diamond Head made the uphill trek seem much more worth it." Iconic landmarks along the route include the Duke Kahanamoku Statue, Waikiki Beach, Ala Moana Beach, Aloha Tower, Iolani Palace and King Kamehameha Statue.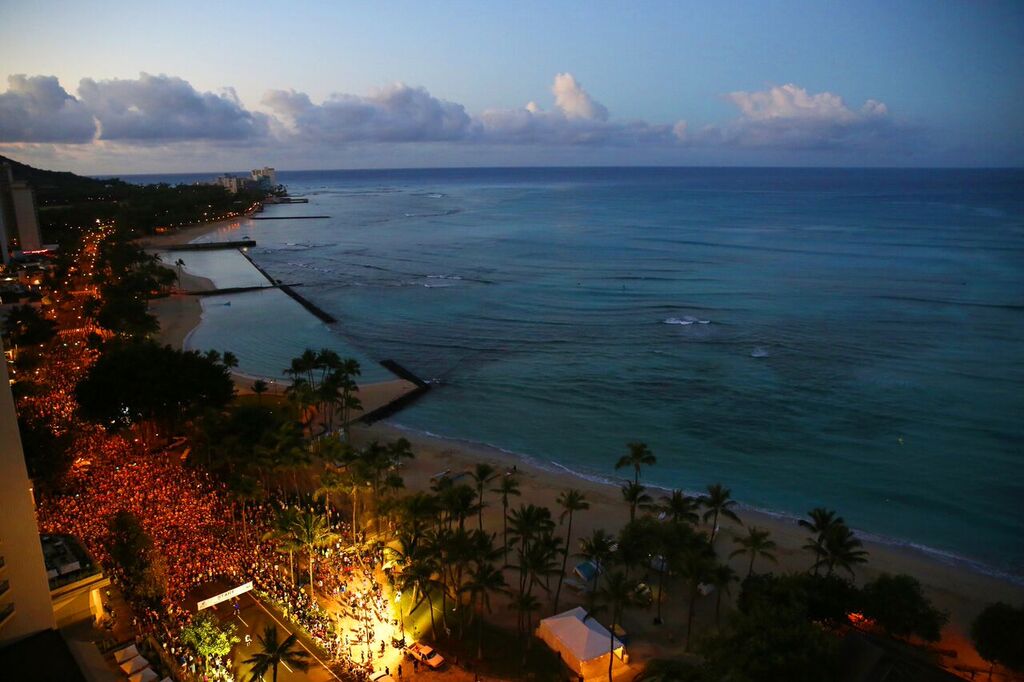 Image Credit: Hapalua Marathon



Idaho: Scenic Half Marathon
Distance: Half Marathon, 10K, 5K
Month: September

Distinguished by stunning lake and mountain views, this race came by its name honestly. Set in the northern Idaho city of Sandpoint, the half-marathon course starts on Sandpoint's City Beach, follows a bike path and then crosses the pristine Lake Pend Orielle—Idaho's largest lake—by way of Long Bridge. After passing through Triangle Park, runners turn around at Lakeshore Road and head back to the starting point. The shoreline course is mostly flat with some gentle inclines. A portion of each registration benefits a non-profit cancer services organization.

Illinois: Alton Half Marathon
Distance: Half Marathon, 5K
Month: March

For a runner, there are far worse ways to spend a spring morning than traversing two states along the banks of the Mississippi River. After starting at Riverfront Park in Illinois, participants cross the iconic Clark Bridge into Missouri. Highlights of the race include the Riverlands Migratory Bird Sanctuary, where runners might spot a number of rare birds and waterfowl, and historic areas of Alton. The out-and-back course returns to Illinois by crossing back over the Clark Bridge, then meanders along the scenic Berm Highway and the Madison County Transit Confluence Trail.

Indiana: Adams Mill Covered Bridge Half Marathon and 2-Mile Run
Distance: Half Marathon, 2 Miles
Month: October

If you're a fan of covered bridges, fall foliage and historic sites, the Adams Mill Covered Bridge Half Marathon in Cutler, Indiana, is an ideal autumn destination race. Starting in Flora's Town Park, the half marathon runs along scenic county roads and then crosses Wildcat Creek. The hallmark of the course is the race's namesake, a truss-style covered bridge that's listed on the National Register of Historic Places. Other than some gently rolling hills, the terrain is mostly flat. Not quite ready for the full 13.1? The two-mile run is perfect for beginning runners.

Iowa: Park to Park Half Marathon
Distance: Half Marathon
Month: September

After starting at George Wyth State Park, participants will head off-road and navigate some of the most scenic trails in Iowa's Cedar Valley. Consisting of a mix of paved and natural terrain, the out-and-back course weaves through four different parks along the way, hence its name. Spectators can cheer on the runners from Island Park near the Cedar River, the Black Hawk Park Campground or downtown Cedar Falls. After the race, stick around to explore the 80 miles of hiking, biking and walking trails.

Kansas: Free State Trail Run
Distance: 100K, 40 Miles, Marathon, Half Marathon
Month: April

Reconnect wth nature during this tranquil trail run held in the college town of Lawrence, along the Kansas and Wakarusa Rivers just outside of Kansas City. Beginning and ending in Clinton Lake State Park, the courses weave through wooded and rocky lakeside trails that are equally challenging and scenic. Rolling hills, stream crossings and wildlife sightings are just some of the highlights.

Kentucky: Run the Bluegrass
Distance: Half Marathon, 7 Miles, 3.65 Miles
Month: April

Runner's World magazine called this "one of America's standout, must-run half marathons" for a reason. Set in the picturesque Keeneland Race Course in Lexington, Run the Bluegrass treats half-marathoners to the beauty of Kentucky's Old Frankfort Pike, which was described as one of the 10 best scenic drives in the United States by Trails.com. One race reviewer noted the "beautiful scenery as the course winds past horse farms and Kentucky countryside." Expect plenty of rolling hills as you navigate the birthplace of American thoroughbred racing.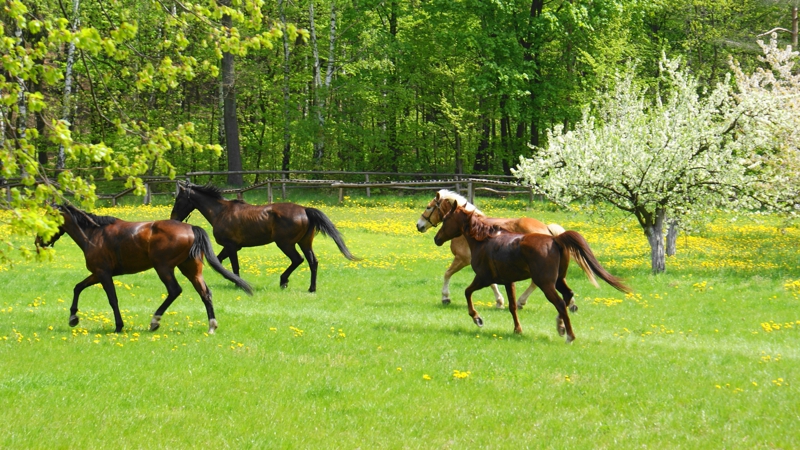 Image Credit: Run the Bluegrass

Louisiana: Q50 Racing Trails Extravaganza
Distance: 50K, Marathon, Half Marathon, 10 Miles, 5 Miles
Month: February

There's a distance for everyone at the Q50 Racing Trails Extravaganza in Franklinton. Spanning two days, the six-course running festival is set at Louisiana's Bogue Chitto State Park. As the park's website notes, it is known for its "small streams, cypress tupelo swamps, a hardwood forest, upland forests and a rolling landscape." Boardwalks are available to view the natural wonder that is Fricke's Cave, as well as other scenic sights. Outdoorsy runners may choose to camp at the park for the duration of the event.

Maine: Maine Coast Marathon
Distance: Marathon, Half Marathon
Month: May

Originally launched as the Nike Maine Coast Marathon in the 1980s before a quarter-century hiatus, the modern-day Maine Coast Marathon was resurrected in 2013. In 2015, the courses were redesigned to emphasize the striking nautical vistas that draw thousands of out-of-town visitors each year. The half marathon runs through several scenic coastal towns, including Biddeford. (Don't miss the Biddeford Pool, a tidal pool that's a favorite among sightseers.) The full marathon crosses through Kennebunk, Kennebunkport, Goose Rocks and Fortune Rocks Beach, which are dotted with charming waterfront homes. Feeling particularly ambitious? Tackle the Maine Coast 39.3 Challenge, which entails running the half marathon on Saturday and the full on Sunday.

Maryland: Baltimore Running Festival
Distance: Marathon, Half Marathon, Relay, 5K, Kids' Fun Run
Month: October

With a smorgasbord of distances on the menu, this diverse running festival offers five different ways to experience the beauty of Baltimore. The marathon takes runners on a tour of the city's charming coastal neighborhoods, including the Inner Harbor waterfront, historic Federal Hill and Fells Point, nestled along the north shore of the Baltimore Harbor. Other highlights include a sojourn through the Maryland Zoo and a loop around sparkling Lake Montebello. The sporty finish bisects the famous Camden Yards ballpark (home of the Orioles) before landing on Raven's Walk near the M&T Bank Stadium (home of the Ravens).

Massachusetts: Mount Greylock Trail Races
Distance: Half Marathon, 5K
Month: June

Take an off-road adventure and experience definitive New England beauty in either of the Mount Greylock Trail Races. Held in the city of Adams, both the half and the 5K start and finish at the Greylock Glen, a scenic swath of land at the base of the race's namesake mountain. The 5K features hilly mountain trails punctuated by grassy meadows, bridges, fields and ponds—all set against the backdrop of the Berkshire Mountains. The half marathon includes sojourns along multiple trails, including Thunderbolt and Jone's Nose. The challenging terrain keeps registrations relatively low, putting the focus on the scenic surroundings. Extend your stay to enjoy biking, hiking, birdwatching and swimming around Greylock Glen.

Michigan: Grand Island Trail Marathon
Distance: 50K, Marathon, Half Marathon
Month: July

Great lakes make for great races. Located just outside of Munising, Grand Island is the largest on the south shore of Lake Superior. It boasts a striking mix of sandy shorelines, sandstone cliffs, hardwood forests and the stunning lake itself, which one marathoner described as "clear and aqua blue as the Caribbean." Participants in this trail marathon are treated to all of these sights and more—along with a cool lake breeze—as they follow the course along the edge of the island. For runners seeking an intimate race that blends the best of lakes and forests, this race meets even the grandest of expectations.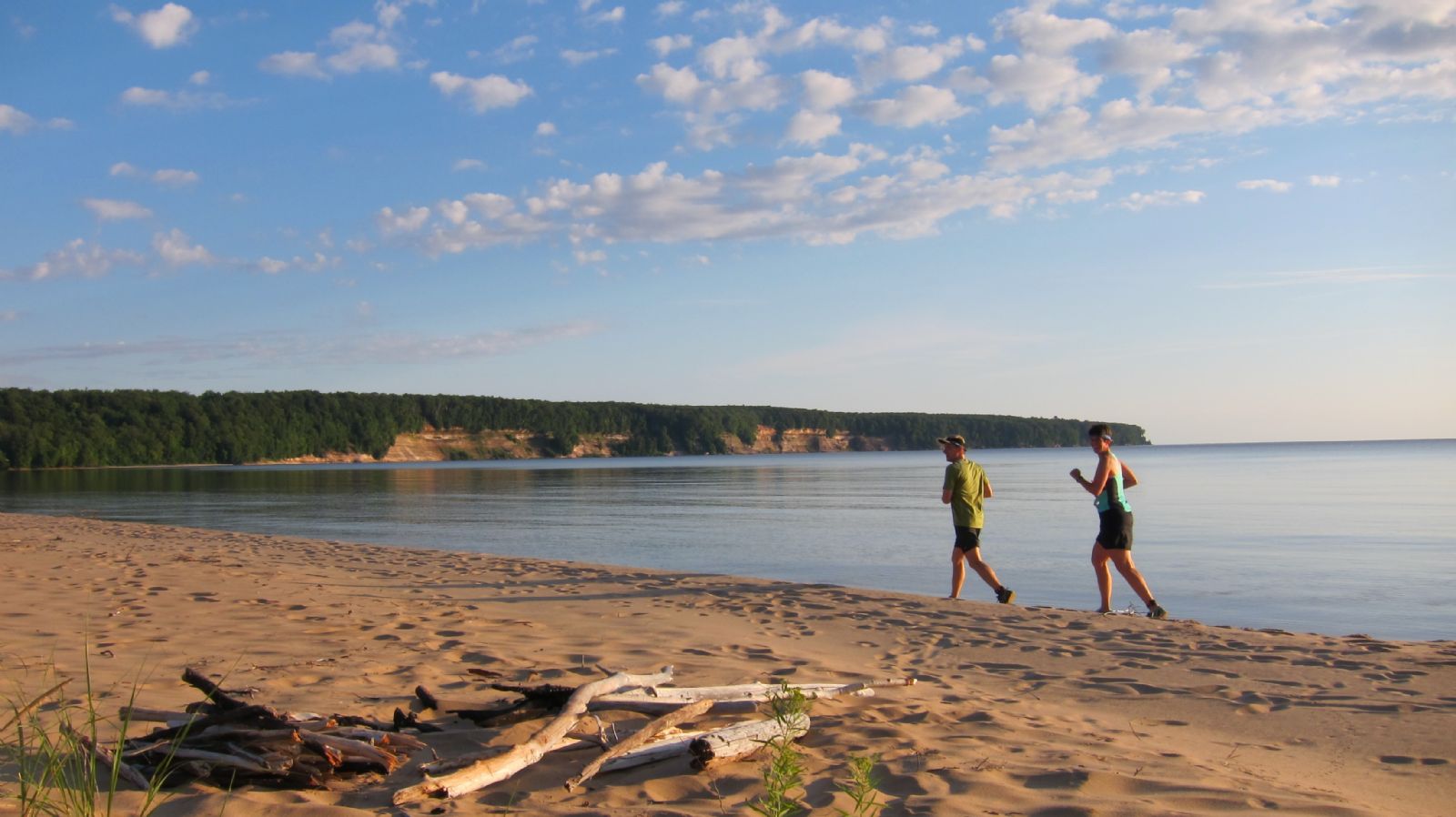 Image Credit: Grand Lakes Endurance Races



Minnesota: Scenic Byway Half Marathon and 5K
Distance: Half Marathon, Relay, 5K, Kids' Fun Run
Month: October

Starting at Court Square Park in Belle Plaine and meandering along the Minnesota River Valley Scenic Byway Loop, both races offer stunning views of autumn foliage along quiet country roads. The course terrain alternates between rolling hills and flat stretches, punctuated by open prairies, dense forests and lush wetlands. Proceeds from the event help to fund the ongoing Minnesota River Valley Cleanup Project, which will expand and preserve the area's network of trails.

Mississippi: Bring It to the Bay Half Marathon
Distance: Half Marathon, 5K
Month: March

This relatively young half marathon debuted in 2014 with the goal of raising funds for local law enforcement. Starting and finishing in quaint Old Town Bay Saint Louis, the race takes runners over the Bay Bridge and along 13.1 miles of scenic shoreline, with stunning views of the Mississippi Gulf Coast. Fast and flat, Bring It to the Bay is a beginner-friendly course that's also open to walkers. Make a weekend of it and explore Old Town's character-rich buildings, cultural offerings and diverse dining and shopping options.

Missouri: Through the Woods Trail Run
Distance: 5K
Month: November

Nature-loving runners seeking a unique off-road challenge won't be disappointed by Through the Woods. Starting in the Parkville Nature Sanctuary within Kansas City, this 5K trek follows a network of gravel and wood-chip trails before emerging onto the Park University campus. Runners can expect to see vibrant foliage and a wide range of wildlife. Hot apple cider is served at the finish line, and quaint shopping and dining options await in the historic downtown. After completing this scenic event, you'll understand why Missouri was named the Best Trails State by the American Trails organization.

Montana: Missoula Marathon
Distance: Marathon, Half Marathon, 5K
Month: July

Named the Best Marathon in the U.S. by Runner's World magazine in 2010, the Missoula Marathon is designed to emphasize the city's natural beauty and regional flair. The marathon route takes racers through 18 miles of picturesque countryside—in all its lush and green summertime glory—before weaving into the residential district and finishing in the historic downtown area. The half follows a similar route with a riverfront section. One participant described the scenic sunrise after the 6 a.m. start: "The sun came out slowly from behind the mountains after a few miles; that beautiful scene will stay in my mind forever."

Nebraska: Sandhills Marathon
Distance: Marathon, Half Marathon
Month: June

There are worse ways to kick off summer than racing through the scenic Sandhills of Nebraska. The course meanders along Brownlee Road in Cherry County, treating participants to the sights of soaring sand dunes, swaying prairie grasses and long, rare stretches of untouched countryside, where visibility stretches for miles on clear days. The half-marathon route begins at the halfway point of the full marathon. Most of the course is a gradual downhill slope, making it a fast and easy choice for new marathoners. After the race, drive just a few miles to visit Nebraska's Valentine National Wildlife Refuge, a prime birdwatching destination with 40 miles of hiking trails.

Nevada: Red Rock Canyon Half Marathon
Distance: Half Marathon
Month: February

What happens in Vegas stays in Vegas...unless it's a PR on a half marathon. Running along Scenic Canyon Road in the the Red Rock Canyon National Conservation Area, participants are treated to a resplendent view of some of the most breathtaking vistas in the Mojave Desert. The fully paved (but challenging) course is flanked by soaring cliffs and mountains in fiery red and orange hues, including Indecision Peak and Rainbow Mountain. Elevation rises by nearly 900 feet before heading back downhill after the halfway point. One reviewer described the course as "studded with cacti and Joshua trees on one side and gorgeous red cliff mountains to the other...the views were breathtaking." Keep an eye out for wildlife among the desert vegetation.

New Hampshire: Mount Washington Road Race
Distance: 15K
Month: June

There are hilly courses, and then there are courses that are hills. Set in the picturesque White Mountain National Forest, the Mount Washington Road Race is described as, "Only one hill. 6,288 ft." Those tough enough to complete the race will ascend a total of 4,650 feet at an average incline of 11.5 percent to reach the pinnacle of the Northeast's highest mountain, where the chilly but scenic Mount Washington State Park awaits. The unique uphill challenge of this long-standing run attracts thousands of out-of-towners from across the United States. and from several countries.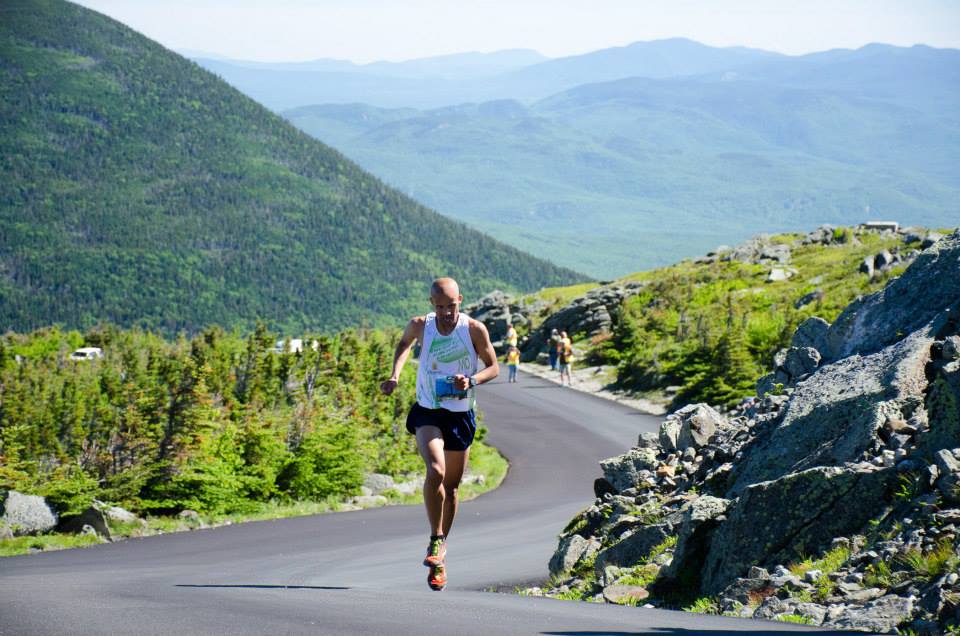 Image Credit: Mount Washington Road Race



New Jersey: The New Jersey Marathon and Half Marathon
Distance: Marathon, Half Marathon, Half Marathon Relay, 5K, Kids' Races
Month: April

If hills aren't your thing, you'll appreciate the fast, flat terrain of the New Jersey Marathon. The course travels through scenic neighborhoods of Oceanport, Monmouth Beach, Long Branch, Deal, Allenhurst, Loch Arbour, Asbury Park and Ocean Grove, with some sections along the Asbury Park boardwalk. During the last few miles, racers are treated to stellar ocean views before reaching the finish on the Long Branch boardwalk. One reviewer noted an unexpected treat of watching thoroughbred horses training in the early morning light at Monmouth Park. Whether you're looking to beat your full marathon PR or just want to enjoy a fun, beachfront 5K with friends, there's a distance to match every goal.

New Mexico: Red River High Mountain Half Marathon
Distance: Marathon, 5K
Month: May

Soaring 8,750 feet above sea level, the mountain resort town of Red River, is home to the High Mountain Half Marathon and 5K. Although you're not likely to snag a PR, completing this challenging uphill course—which gains a total of 700 feet in elevation—will earn you some serious bragging rights. Enjoy resplendent views of forest-covered mountains, including the famous Wheeler Peak, New Mexico's highest point. Much of the course runs along the scenic river for which both the race and the historic town are named. After the race, enjoy the abundant outdoor pursuits Red River has to offer, including biking, hiking, white water rafting, camping and wildlife watching.

New York: Lake Placid Marathon
Distance: Marathon, Half Marathon
Month: June

Nestled in New York's beautiful Adirondack Mountains, the Lake Placid Marathon was runner-up for the 2010 Best Destination Marathon award in a Runner's World magazine survey. After starting in the Olympic village of Lake Placid, the course travels around sparkling Mirror Lake and then heads out of town. Scenic highlights include the horse show grounds, the ski jump area, the Au Sable River and many mountain ranges, including the revered Whiteface Mountain, one of the High Peaks of the Adirondacks. For a dash of drama, competitors finish in the same area as the speed skaters who competed in the 1980 Winter Olympics.

North Carolina: Outer Banks Marathon
Distance: Marathon, Half Marathon, 8K, 5K, Fun Run
Month: November

An OBX marathon finisher sums it up: "This run is very meditative and therapeutic because of all the gorgeous views...the amazing scenery is the reason to run this race." The course starts in Kitty Hawk along the scenic Memorial Trail, with up-close views of the Albemarle Sound, before entering the residential portion of the Outer Banks. Marathoners then head into the Nags Head Woods Preserve for some off-road trail running. Just a few of the visual highlights include the Wright Brothers Monument, a colossal sand dune in Jockey's Ridge State Park and water views from Soundside Road. With the exception of two hills—one at the nature and the other as you cross over Washington-Baum Bridge into historic Roanoke Island—the sea-level course is flat and fast.

North Dakota: The Badlands - Wannagan Campground Maah Daah Hey Trail
Distance: 50 Miles, 50K, Marathon, 16 Miles, Half Marathon, 10K
Month: August

Billed as North Dakota's best-kept secret, the Maah Daah Hey Trail provides a front-row seat to the awe-inspiring terrain of the Badlands. Translated into English, the Indian term "Maah Daah Hey" means "an area that will be around for a long time," which is good news for the adventurous athletes who tackle this challenging and inspiring race each year. Whatever distance you choose, you'll run against a backdrop of peaks, valleys, plateaus and prairies, with a few creek crossings and one river crossing. The event starts and finishes at Wannagan Campground near Medora, North Dakota, so pitch a tent and extend the adventure.

Ohio: Towpath Trilogy
Distance: Marathon, Half Marathon, 10 Miles, 10K, 5 Miles, 3 Miles
Month: April, June, October

Runner's World magazine has this high praise for the Towpath Trilogy: "Savor autumn in all its saturated hues at one of the most beautiful marathons on the fall racing calendar, which also happens to showcase one of the Midwest's few national parks." Set in Cuyahoga Valley National Park with ample valley and river views, the marathon attracts more than 2,000 runners each year. The series of races is staggered: The 3-mile, 5-mile and half marathon courses are in April; June marks a 10K and 10-mile race; and a 10K, half marathon and full marathon take place in October. Cruise along the crushed limestone course while taking in the lush spring greenery, summer blossoms or fall foliage, depending on which event you tackle.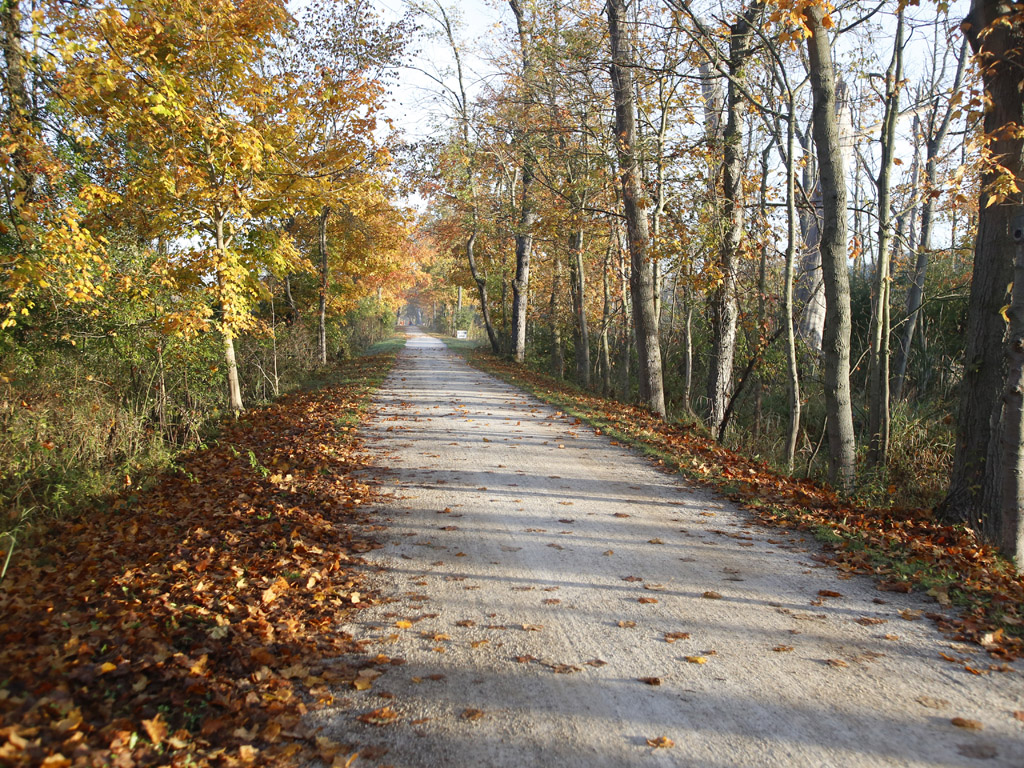 Image Credit: Towpath Marathon

Oklahoma: Spirit of Survival Half Marathon
Distance: Half Marathon, 10 Miles, Quarter Marathon, 5K, 1.2 Mile Kids' Fun Run
Month: October

Also known as the "Hulkin' Half Marathon," this scenic course is fit for a superhero—and that's just what you'll feel like as you navigate the unique terrain. Starting at Lawton's Elmer Thomas Park, runners will soak in picturesque landscapes that include lake and mountain views. With several distances from which to choose, it's easy to find a course for any age and skill level. Before or after the event, try to stop at Oklahoma's Wichita Mountains Wildlife Refuge, where you can often spot rare wildlife and plant life.

Oregon: Oregon Wine Country Half Marathon
Distance: Half Marathon (Team, Individual or 2-Person Relay)
Month: August

Who needs water stops when there are wine tastings? Described on the event's website as a "hidden gem," the Oregon Wine Country Half Marathon is tucked away in Yamhill County's Willamette Valley, just minutes from Portland. The countryside course boasts "small-town charm, incredible sunrise views, a scenic course, great wines and a post-race Wine & Music Festival." Along the way, soak in views of grape orchards, wineries and wildlife. This is an ideal race for wine lovers seeking an escape from hectic city life.

Pennsylvania: Hands-on-House Half Marathon
Distance: Half Marathon, 10K, 5K
Month: September

The quaint town of Lancaster, also known as Pennsylvania Dutch country, is home to the Hands-on-House Half Marathon. The 10K meanders through scenic farmland, while the 5K navigates charming residential neighborhoods. The half marathon takes runners past an historic Amish schoolhouse and through a postcard-worthy covered bridge. There are enough hills to challenge seasoned runners, without dissuading new racers. As if you needed another reason to visit picturesque Pennsylvania in autumn, the race benefits its namesake, the Children's Museum of Lancaster.

Rhode Island: Gansett Half Marathon
Distance: Half Marathon
Month: October

Experience the seafaring charm of Rhode Island's Narragansett Bay (known as "Gansett" by the locals) when you follow this course down the scenic shoreline. The race starts near the historic Towers, one of Gansett's most famous landmarks. Surroundings alternate between ocean views and wooded areas and back again as runners make their way toward the Point Judith Lighthouse, which has stood sentry over the Bay's shoreline since 1856. From there, it's non-stop ocean views until the home-stretch cruise through a charming residential area. As one participant raved, "It was a tremendous race...on a perfect running day with a perfect backdrop."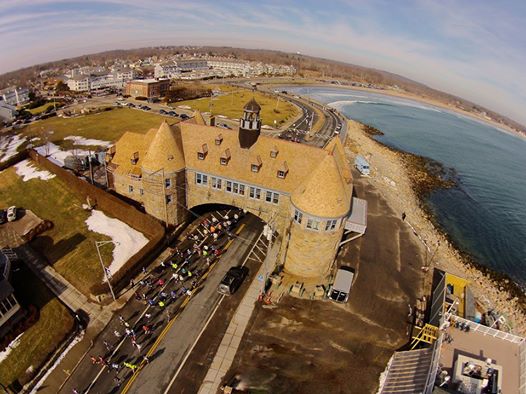 Image Credit: Gansett Half Marathon

South Carolina: Save the Light Half Marathon & 5K
Distance: Half Marathon, 5K
Month: February

Soak in the seafaring charm of Folly Beach during this coastal half marathon and 5K. Starting on Arctic Avenue near the historic city of Charleston, the fully paved course treats you to stunning views of the Atlantic Ocean and beautiful waterfront homes. Save the Light is a fundraising event benefitting the restoration of the endangered Morris Island Lighthouse, one of South Carolina's treasured landmarks. The half marathon is restricted to runners, but runners and walkers are welcome in the 5K. If you're seeking a smaller, more intimate maritime race, you won't be disappointed.

South Dakota: Spearfish Canyon Half Marathon
Distance: Half Marathon, 5K
Month: July

If you've never run down a canyon, here's your chance. As the event's website states, "Road race down beautiful Spearfish Canyon Scenic Byway, featuring limestone canyon walls blanketed with coniferous and deciduous trees along Spearfish Creek." This breathtaking half marathon winds through the northern part of the Black Hills National Forest, set against a stunning backdrop of mountains, canyons and trees. The course is a gradual downhill slope, descending by around 1,300 feet from start to finish. As one reviewer put it, "If you're looking for a small, low-key half marathon, this is a great option. You will not find a more beautiful place to run than down Spearfish Canyon."

Tennessee: Rock/Creek River Gorge Trail Race
Distance: 10.2 Miles
Month: March

Chattanooga is known as the "Gateway to the South," and we can't think of a warmer welcome than the Rock/Creek River Gorge Trail Race. Described as "one of the most beautiful trails in the Chattanooga area," this 10.2-mile, single-track trail follows the Mullens Cove Loop in Prentice-Cooper State Forest, which offers unrivaled views of the Tennessee River and surrounding forests. You can expect a mix of smooth trails and more rugged, rocky terrain, punctuated by scenic stream crossings. It's easy to see why the Rock/Creek River Gorge Trail Race has been a favorite among serious athletes and recreational runners alike since 2001.

Texas: Big D Texas Marathon
Distance: Marathon, Half Marathon
Month: April

Everything's bigger in Texas, including springtime beauty. The Big D Marathon gives runners a stunning preview of spring's lush green growth, blooming flowers and (hopefully) bright blue skies. The partially hilly course starts in the Texas State Fairgrounds next to Big Texas Circle and then heads to historic White Rock Lake. The next 12 miles hug the lake's scenic shoreline (watch for wildlife) before entering the Santa Fe Trail and then circling back to Big Texas Circle. One race reviewer sums it up: "There is a wide variety of urban scenery, parks and neighborhoods, with hardly any traffic. The mixed terrain is moderately challenging, but easier on your legs than a perfectly flat course."

Utah: The Utah Valley Marathon
Distance: Marathon, Half Marathon, 10K, Kids' Fun Runs
Month: June

Voted one of the World's Top 10 Marathons by Runner's World magazine in 2010, the Utah Valley Marathon offers some of the most unique and diverse springtime scenery you'll find. Marathon runners will follow canyon roads along the Provo River, enjoying panoramic views of the soaring mountains and Bridal Veil Falls, the smallest of the three Niagara Falls. The half marathon encompasses the last half of the full course, offering much of the same striking scenery. Both courses finish in historic downtown Provo.

Vermont: Peak Snowshoe Races
Distance: 100 Miles, Marathon, Half Marathon, 10K
Month: March

This March trek through the snowy Green Mountains of Vermont serves as a chilly but scenic farewell to winter. Choose your portion of pain, from the ultra 100-mile course down to the shortest—but still challenging—10K loop. "Hilly" is an understatement: Competitors will climb 1,200 feet in elevation for each 6-mile loop. If snow-capped mountains are your idea of beauty and the cold doesn't bother you, strap on your snowshoes and tackle the most challenging event in New England.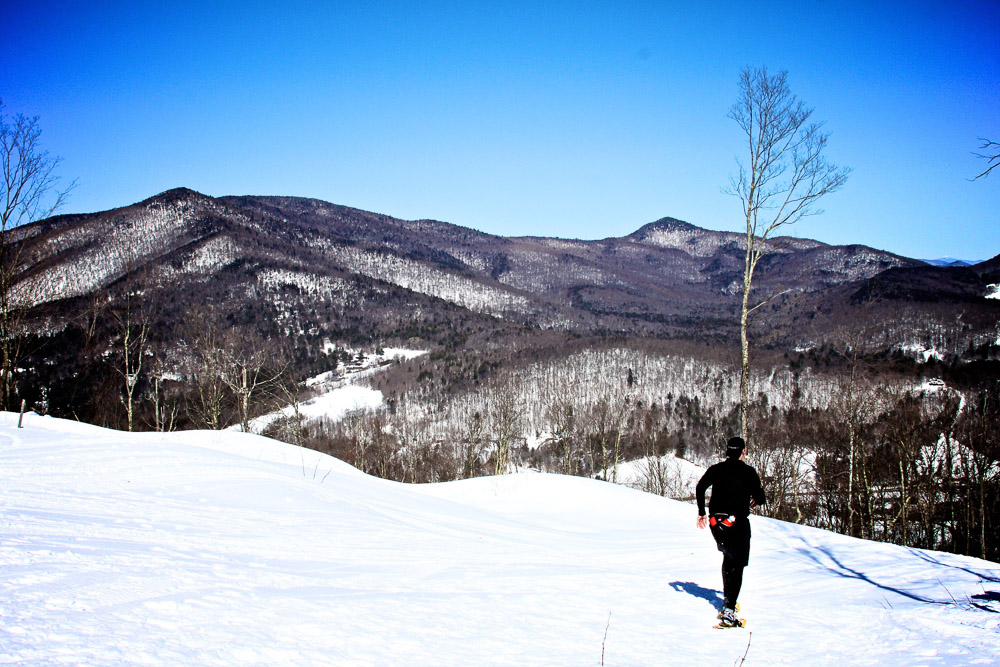 Image Credit: Peak Snowshoe Races

Virginia: Virginia Wine Country Half Marathon
Distance: Half Marathon, Relay
Month: June

What better way to kick off spring than a sojourn through the lush, green hills of Loudoun County, home to more than 20 wineries and vineyards? This scenic and peaceful course starts at Doukenie Winery along the West Virginia border, then follows rolling hills dotted with horse farms, bed and breakfasts, ponds and tree-lined stretches. At the finish back at Doukenie, runners can celebrate by sampling the local blends.

Washington: Snake River Half Marathon
Distance: Half Marathon, Relay
Month: March

Designated as a National Wild and Scenic River, the Snake River meanders through southeastern Washington State and is home to Hell's Canyon, one of the most dramatic river gorges in the West. Showcasing the area's stunning canyon views, the Snake River Half Marathon attracts hundreds of runners each spring. After starting at the Wawawai Landing on the river, the flat, paved course heads along Wawawai River Road before the turnaround point near Water Canyon. The Snake River Canyon Race welcomes runners, walkers and wheelchair competitors.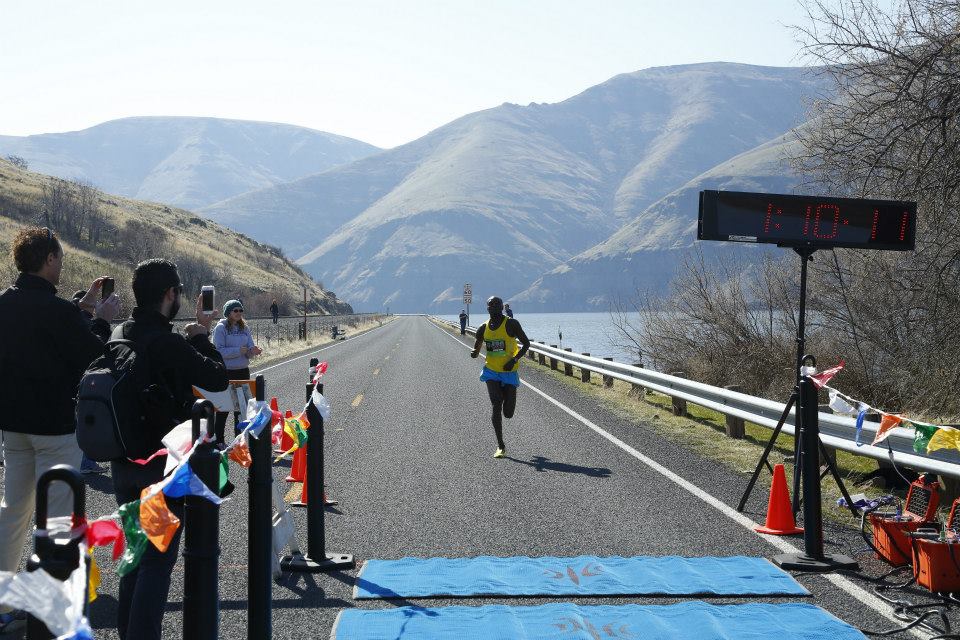 Image Credit: Snake River Canyon



West Virginia: Freedom's Run
Distance: Marathon, Half Marathon, 10K, 5K, Kids' Fun Runs
Month: October

Snagging a spot as one of the Top 25 Half Marathons in Runner's World magazine (October 2013), Freedom's Run is set in the scenic, hilly landscape of the Shenandoah Valley. Although the course starts and finishes in Shepherdstown, West Virginia, most of the race takes place across the Potomac River in Virginia. Nature enthusiasts will enjoy weaving in and out of four national parks, while Civil War buffs will appreciate the trek through the historic Antietam National Battlefield Park and Antietam National Cemetery. As one marathoner put it: "Running through four national parks and on an old Civil War trail in a forest, alongside a river, was truly a memorable experience."

Wisconsin: Madison Mini Marathon
Distance: Half Marathon, 5K, Kids' Fun Run
Month: August

Experience one of the country's most beautiful cities during this sojourn through downtown Madison. In addition to weaving through the picturesque University of Wisconsin campus, the half-marathon course treats runners to up-close sightings of Memorial Union, Capitol Square, Henry Vilas Zoo, Camp Randall, the Arboretum, Lakeshore Path, Bascom Hill, Union Terrace and other Madison landmarks. Discover why the Madison Mini was ranked 14th in the Best Half Marathons of the U.S. by Runner's World magazine.

Wyoming: Bighorn Mountain Wild and Scenic Trail Runs
Distance: 100 Miles, 52 Miles, 32 Miles, 18 Miles
Month: June

Lovers of nature and long-distance runs will be right at home at the Bighorn Mountain Wild and Scenic Trail Runs. Hosted by trail runners as a means of promoting tourism and recreation in Sheridan County, this two-day running event features four formidable courses, each of which highlights the striking geology, scenic landscapes and variety of wildlife found in the Bighorn Mountains. Even the most experienced runners will be challenged by the rugged mountain terrain and soaring elevations, although the awe-inspiring scenery is a worthy reward. One finisher summed it up: "The course is breathtaking, running up and down mountains, through hills and fields and forests and finishing with a long stretch of mileage run alongside a roaring river."

Have you run any of these beautiful courses? Which would you add to this list?