Fast Food Showdown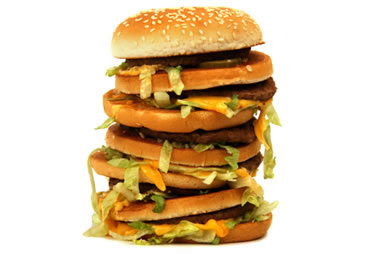 Your Results:

0 of 12 Correct
Which drive-thru taco salad contains fewer calories?





Taco Bell's Fiesta Taco Salad
Wendy's Southwest Taco Salad
Explanation:
Even with the added dressing, Wendy's salad weighs in with fewer calories (640), fat (38 grams), and trans fats (1.5 grams). Taco Bell's Fiesta Taco Salad packs 820 calories, 43 grams of fat (more than 70% of your daily value), and 1.5 grams of trans fats. You can make Wendy's Southwest Taco Salad healthier by ditching the dressing and tortilla strips. You'll still retain a lot of flavor, thanks to the seasoned chili and sour cream, but you'll save 200 calories and 13 grams fat.
Which burger is lower in fat?





Wendy's Jr. Hamburger
Hardee's Slammer
Explanation:
Wendy's Jr. Hamburger makes a smart choice. Enjoy this burger for 280 calories and 9 grams of fat (3.5 grams saturated fat) and both your taste buds and your waistline will be happy. Hardee's Slammer is a bit lower in calories (240), but higher in fat (12 grams) and saturated fat (5 grams), which you should try to avoid if you're watching your cholesterol levels. Both of these are the lowest-cal burger options at their respective locations. If you want cheese, factor in about 40 more calories, and always say no to the high-fat special sauces and mayo.
Which Taco Bell item is a smarter choice?





Taco Bell Crunchwrap Supreme
Taco Bell Zesty Chicken Border Bowl
Explanation:
Surprised by this one? While it doesn't make a very healthy choice, the Crunchwrap Supreme weighs in with 16 fewer fat grams and 180 fewer calories than its seemingly healthy competitor. For 560 calories, 24 grams of fat (37% of your daily value) and 9 grams of saturated fat (43% of your daily value), you could enjoy this crunchy, satisfying meal. Just don't make it a habit. Taco Bell's Zesty Chicken Border Bowl is masquerading as healthy fare, but it's anything but. With 60% of your daily value of fat (40 grams!) and 730 calories (more than half of many dieters' daily intakes), this bowl cause your belly and your arteries to rebel! The good news? Almost every Taco Bell menu item can be order "Fresco Style" to replace the heavy sauces and cheeses with zesty tomatoes, onion and cilantro. Order the Fresco Style Crunchwrap or Border Bowl for only 470 calories and 14-16 grams of fat. Now those are some healthy choices!
Which item is the lowest-calorie dessert at the golden arches?





McDonald's Apple Dippers
McDonald's Kiddie Cone
Explanation:
All in all, both of these options can fit into a healthy diet. Surprisingly, the Kiddie Cone is one of the lowest calorie items on the entire menu, at only 45 calories and 1 gram of fat. It will satisfy your sweet tooth and help you keep your portions in control. The Apple Dippers, which come with caramel dipping sauce, also make a good choice when it comes to sides or desserts. For only 105 calories and half a gram of fat, you'll also boost your fruit and vitamin intake for the day. You may even be able to convince your kids to take part of this fruity dish. If you have a few more calories to spend on your sweet tooth, consider ordering the larger Vanilla Reduced-Fat Ice Cream Cone. It's more than 3 times the serving size of the Kiddie one, but still low in calories (150) and fat (3.5).
Which south-of-the-border meal won't tip the scale?





2 Baja Fresh Original Charbroiled
2 Taco Bell Chicken Ranchero Tacos
Explanation:
Fresh is in the name, and in this case, it's right on. Baja's tacos contain 500 calories for two, and a reasonable 16 grams of fat (and only 2 grams of saturated fat). Taco Bell's tacos are just slightly higher in calories (540 for two), but have almost twice the fat content (28 grams) and 4 times as much saturated fat (8 grams). Next time, DON'T run for the border.
Which fish sandwich is lower in calories?





Burger King Big Fish sandwich
McDonald's Filet-O-Fish sandwich
Explanation:
McDonald's fish sandwich contains a surprising 380 calories and almost half the fat (16 grams) of BK's fish sandwich. Burger King's Big Fish is exactly that--big! It packs 230 more calories (630 total), 30 grams of fat, and more than twice the sodium of McDonald's fish sandwich. Skimp on the tartar sauce and you'll save about 100 calories and 10 grams of fat on each sandwich. Now that's diet-friendly!
Which roast beef sandwich is the most diet-friendly?





Arby's Big Montana Roast Beef Sandwich
Hardee's Big Roast Beef sandwich
Explanation:
Hardee's version of "big" is still a smaller portion than Arby's big sandwich. It contains 470 calories, 23 grams of fat, and about half of your daily sodium intake. Arby's Big Montana is big in more ways than one: calories (590), fat grams (29), and almost a day's worth of sodium. Of course, these are the biggest portions at each restaurant. To keep those portions--and calories--in check, order the Regular Roast Beef from Hardee's or Arby's for about 330 calories. Arby's Junior Roast Beef is an even better choice, at 270 calories and only 9 grams of fat.
Can you pick the lower-fat sub?





Quiznos Turkey Ranch & Swiss sub (Regular size)
Subway Chicken & Bacon Ranch (6-inch)
Explanation:
Even though it's not on the list of subs with 6 grams of fat or less, this Subway sandwich puts its competition to shame. The Chicken & Bacon Ranch sub contains 530 calories. Even with a high fat content (25 grams), it still wins. Quiznos' version of a Ranch sub, though only about 2 inches bigger than Subway, packs 977 calories, a staggering 48 grams of fat--74% of your daily value--and 135% of your recommended sodium limit.
Which grilled chicken sandwich makes a better choice?





Chick-fil-A Chargrilled Chicken Sandwich (with lettuce, pickle & tomato)
McDonald's Premium Grilled Chicken Classic Sandwich (no mayo)
Explanation:
Chick-fil-A's chargrilled sandwich packs a lot of nutrition into a low-cal, low-fat sandwich. It contains 270 calories and only 3.5 grams of fat, and is much lower in sodium than its competition. Although McDonald's sandwich looks very similar, it contains 410 calories, and almost 5 times more fat (16 grams). Remember--skip the fatty mayo and go for mustard, which is naturally low in calories.
Which veggie sandwich is as low-fat as it sounds?





Subway 6-inch Veggie Delight Sub (with American cheese)
Panera (or St. Louis) Bread Garden Veggie Sandwich
Explanation:
The Veggie Delight may be a little plain--after all, it's a bunch of veggies on bread. But adding a serving of American cheese (40 additional calories) can add taste and boost your dairy servings for the day. This six-incher with cheese contains a light 270 calories and 6.5 grams of fat—not to mention that it's low in saturated fat, cholesterol, and high in nutrition. Panera's Garden Veggie Sandwich is a landmine of fat--a striking 25 grams, and 640 calories! Better yet, you can still get your veggies when you choose Panera's Vegetarian Garden Vegetable soup for only 90 calories and half a gram of fat.
Which potato product weighs in with fewer calories?





Wendy's Baked Potato with bacon & cheese
Burger King medium French Fries
Explanation:
A plain baked potato contains about 115 calories and one-tenth of a gram of fat, making it a healthy choice. While neither of these options makes a good substitute for a plain baked potato, the BK's medium fries actually contain fewer calories in this instance. One medium order of fries offers 364 calories and 17.4 grams of fat (along with almost 1/3 of your daily sodium intake). Wendy's baked potato would have made a good choice, if it wasn't topped with bacon and cheese. It weighs in at 460 calories, 13 grams of fat, and even more sodium than a medium French fry. If a plain potato isn't your thing, top it with some salsa (always low in calories) or opt for Wendy's sour cream and chives potato for only 320 calories and 4 grams of fat.
Which has fewer calories--the burger or burrito?





McDonald's Quarter Pounder with Cheese
Chipotle Chicken Burrito (tortilla, rice, chicken, tomato salsa, lettuce, and cheese)
Explanation:
Surprised? While the Quarter Pounder isn't exactly a diet food, with 520 calories and 26 grams of fat, it is much lower in calories AND fat than a Chipotle burrito. The burrito described above commands a whopping 775 calories and 28 grams of fat! Add sour cream (110 calories), beans (130 calories), and guacamole (170) calories, and you've eaten more calories (1,185) than a lot of people eat in an entire day. Next time, make your burrito healthier by swapping the meat for beans, putting it in a bowl (instead of a tortilla), and loading up on flavorful salsa instead of cheese, sour cream, and guacamole. You'll save about 500 calories.
Share Your Quiz Results!