Depression Myths & Truths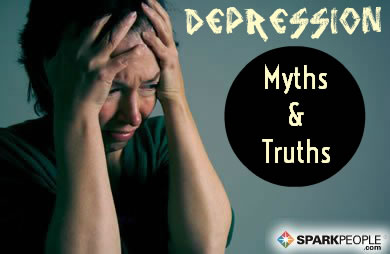 Your Results:

0 of 10 Correct
Depression is a normal part of life.





Myth
Fact
Explanation:
Although it's normal to feel sad or experience "the blues" in response to certain life events, such as the death of a loved one, clinical depression is a medical condition that persists for weeks, months or even years and is not a normal reaction to life events. To find out if you are experiencing the blues or real depression,
click here
.
Eventually, depression will go away by itself.





Myth
Fact
Explanation:
For some people, depression might go away without intervention, but that's not the case for most people who suffer from depression. There is no way of knowing how long depression might last, and it can greatly increase your risk of other complications if left untreated. There are several types of treatment that can quickly and effectively decrease the severity of depression.
It's normal for people to become depressed as they get older.





Myth
Fact
Explanation:
Depression is not a natural part of aging. While you may think that the risk of developing depression increases with age, that's not always the case. In fact, studies show that the elderly are more likely to be happy and content with their lives than their younger counterparts. Depression can occur at any age (even in children), but it is most common in people between the ages of 24 and 44.
Depression is life-threatening.





Myth
Fact
Explanation:
Left untreated, depression can last for weeks, months or even years and increase the risk of other health problems and even death. Untreated depression can lead to the following:
- A weakened immune system, resulting in more and longer-lasting illnesses
- Insomnia, which leads to fatigue, reduced mental clarity, and trouble concentrating
- A higher risk of death in the event of a heart attack or stroke
- Alcohol and drug use, abuse, and dependence
- Suicidal thoughts and/or attempts
Depression is caused by a chemical imbalance in the brain.





Myth
Fact
Explanation:
The causes of depression are complex and overlapping. In fact, one true cause is not known. Low serotonin levels are a
symptom
of depression, but there is no proof that low levels of serotonin actually
cause
depression.
Click here
to learn more about the possible causes of depression.
Antidepressants are the most effective treatment for depression.





Myth
Fact
Explanation:
There are
many effective treatments for depression
, and antidepressant medications are just one of them. Because depression is so different among individuals, the methods used to treat depression also vary in effectiveness from person to person. For example, some studies show that exercise is just as effective as antidepressants in treating depression in some cases. For other people, talk therapy alone is enough to put depression at bay. Your doctor will work with you to find the best treatment plan for you, based on your symptoms.
When a depressed person talks about committing suicide, he probably won't act on it.





Myth
Fact
Explanation:
Suicide is a serious risk that many people with depression think about and attempt. Research shows that a person will usually vocalize or communicate his suicidal intentions before attempting it, so it should always be taken seriously. Another related myth is that talking about suicide or depression with someone will make them want to do it. This is also false. If someone mentions (or harbors) suicidal ideas, talk with him sympathetically and tactfully. Give the person an opportunity to express his ideas and feelings clearly and to receive appropriate care. In most cases, this prevents suicide. The National Suicide Prevention hotline (1-800-273-8255) also offers help.
Depression can occur when other areas of your life are going well.





Myth
Fact
Explanation:
People can experience depression even when life is going well. While depression can be triggered by unfortunate life events, that is not always the case.
A person without health insurance can't afford to get treatment for depression.





Myth
Fact
Explanation:
Even if you don't have insurance or a primary care doctor, there are plenty of professionals who can help you find low-cost or free resources. Try visiting a: Community mental health center University-affiliated health center Employee assistance program Faith-based clinic or clergy Family & social service agency or social worker Free health clinic
People with depression lack will power and can snap out of it.





Myth
Fact
Explanation:
Remember that depression is a real medical condition and says nothing about your character or value as a person. It is not the result of weakness or a defective personality. Many people are reluctant to talk about their difficulties or seek treatment out of embarrassment or shame, but there is nothing to be ashamed about. Medical professionals should not be judgmental about the problems you are experiencing. Learn
how to get help for depression
.
Share Your Quiz Results!