Quizzes & Assessments
Taking SparkPeople quizzes and assessments is a fun way to test your knowledge on nutrition, quizzes, and health, and to learn more about yourself!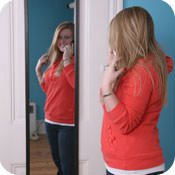 Take This Quiz »
Body image affects how you feel about yourself, how you project yourself, and how you care for your own health. Answer the following questions to find out where your body image stands now--and how you can improve it.
Nutrition Quizzes
Health & Wellness Quizzes
Fitness Quizzes
Motivation Quizzes