SparkAmerica is a friendly competition to help you stay motivated and reach your goals! Select your favorite affinities (such has sport teams, cities, companies and more) from several categories. All steps, fitness minutes and SparkPoints that you earn count towards the totals for each of your favorites. Our leaderboards will rank the affinities in each category so you can see how yours stack up against the rest.
When you join SparkPeople and SparkAmerica, your fitness and other healthy lifestyle activities will help your favorite affinity groups and organizations climb up the leaderboards!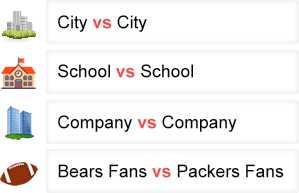 We are bringing together many great partners for this campaign. You can even submit your organization to join in the fun.
Our goal is to build the most impactful program ever, combining health and fitness, leadership development and community support. Together, we can make a big difference in the health of the world!
Participating in SparkAmerica
You can use any parts of SparkPeople's site and apps to participate in SparkAmerica. All of your SparkPoints and fitness minutes will go towards your favorite affinities. Whether you track your foods, use our apps, join a challenge or do anything else, your healthy living activities will count towards the challenge!
Want to Become a Partner?
If you or your company wants to be a sponsor, contribute content, start a corporate wellness program or be part of SparkAmerica in any other way, email us at sparkamerica@sparkpeople.com. Thanks!