Glass Houses
Friday, February 08, 2008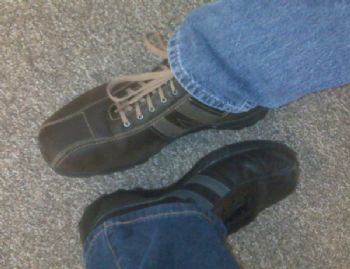 Dear Blog,
I recently purchased a new pair of shoes which I *thought* were plain enough to avoid ridicule. Well, it turns out my wonderful co-workers (yes, the same folks that help make SparkPeople.com available to the world) didn't think so, and my shoes were deemed *fancy* (this is the last thing a guy wants his shoes to be). I have been very hurt by the abuse.
Anyway, I happened to notice the shoes worn by one of my co-workers this morning - let's call him Paul - and they are the exact same shoes I have on only in black! Black!!!! My shoes are a sensible, casual brown, and his are shiny black! Come on!!!! How can he make fun of my shoes when his are obviously fancier than mine?!?!?!
So you be the judge. Check out the picture at the top of this blog and let me know. Should the guy with the black shoes on be making fun of the guy with the brown shoes on???
Thank you for your time and God bless,
Jeremy