Randoms
Thursday, February 07, 2008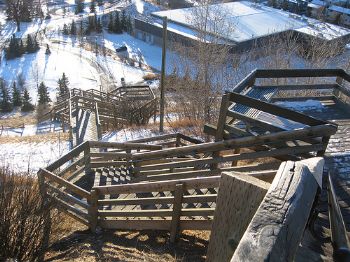 I just got in from walking the stairs @ McHugh Bluff with some friends. We climbed them 8 times! That's 1,336 stairs. We didn't take the stairs down, we walked the bikepath back down to the bottom. It took us about an hour and 22 minutes. Not bad.
My run clinic ends this Tuesday, the Half we've been training for is on Sunday. I'm pretty excited to see how my friends do on what is, for most of them, their first Half Marathon. I feel very good about their progress and I'm extremely proud of them.
I'm on day 2 of my "stay within calories" streak. Hopefully, I can keep this up. I've made a deal with myself that every day that I'm in range I pay a dollar to the piggy bank. Once a month, I'll reward myself with something using the loonies I've collected. I'm thinking that some months the reward will be better than others.
Is it weird that I've not even run my HM and I'm already looking forward to training for the next one?