I Can't Believe I Ate All I Did---CAN YOU SAY BINGE-A-ROO-NI??!!!!
Thursday, February 07, 2008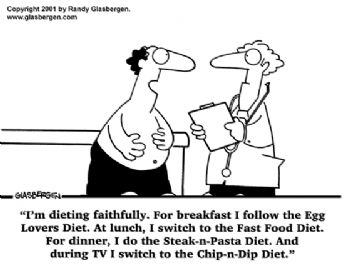 Help! I Binged and I can't get up! Yesterday was a out of control spiral of eating that started with a milk shake the day before. How could I have let the following day get so out of hand? I do not know...but I'm reminded of the scripture that I picked to guide me that says:
"He that has no rule over his own spirit, is like a city that is broken down and without walls." Proverbs 25:28
WOW! Was I a city without walls yesterday? Was it only by God's grace that he protected me and kept me? YEP and YEP!
This scripture to me means that If I don't have self control over my own desires, I am broken and unprotected from attacks of the enemy.
TODAY will be a better eating day---with portion control and SELF control...with the help of GOD.