PASTA WEESIE....YUM!
Wednesday, February 06, 2008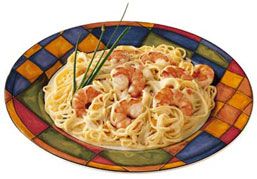 Well it was DELICIOUS! My dinner out with my mother was DELICIOUS! I cheated like I knew I would and had Pasta Weesie. A sinfully decadent dish of shrimp sautéed in garlic lemon butter in a white wine sauce with sautéed mushrooms and scallions, served over fettuccine alfredo. If you're reading this I know your mouth is watering, my is just writing it! The smell of it as it came to our table was so yummy I almost licked the waiters hand as he sat it in front of me. I can't be sure, because I was in a state of delirium, but I think I may have made a sound much like a moo from a cow as I took each bite. Oh it was SO good! Now on the plus side, since I've been good for an entire month, I was only able to eat about 1/3 of the meal, and instead of taking it home to finish later, I gave it to my mother. And it hasn't sent me into an eating jag. I've done well today, weight watchers soup and salad for lunch, eating wisely and healthy today, back on track. But I think the fatty food made me mean today. My job is stressful, but I think I've been extra short today with some of the staff, thank God they know me, and my moods, and still love me (smile). Here is to getting back on the wagon! Once again, as always, thank you, everyone for your support!