Karma is home
Tuesday, February 05, 2008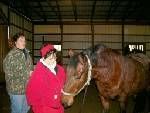 Friday, January25th, Karma was delivered to my niece's barn. Unfortunately I was down with a severe infection and was unable to go see him until Friday, February 1st. That was such a LONG wait!
He is adjusting well. I really love having him at my nieces place. She and my nephew are such a help to me.
I have done things there that I have never done before. (Mind you...this is only 3 Days!) I've lead horses to the pasture, and back to the barn as well. I was always TERRIFIED of my friends horses when they would come in from being out all day (..they would run you down!) ...and also when they went out. (they would be pushy and try to run from you.) Sarah (and my daughter, and I now) lead each horse calmly, and orderly in and out and it is awesome! They are so well behaved! I DID LOSE MY BOOT once though! That mud sure is deep! lol!
I was able to groom Karma only once so far. My 2nd granddaughter, Jade Elizabeth, was born yesterday morning. I was up all night Sunday night and just was not able to go to the barn last night. Tonight I am going to do double duty. lol!
Karma is such a doll! I feel bad for him that he is the "low man" in the pasture. He gets picked on a lot...but I have seen him pick back. lol! I really think he feels they are playing a game. he's too funny!
I really feel that he is going to be good for my daughter and myself. He's our baby.