So Far So Good
Monday, February 04, 2008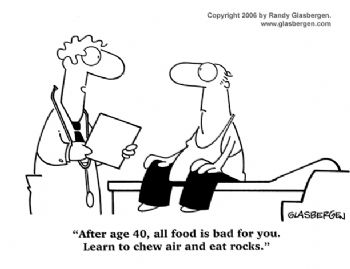 Looking back on last week's food entries, I am doing pretty good probably an average of about 1300 calories per day..so I feel real good about that. NOW, if I can do something to move a little--but I am thinking that will come later after I feel a little better..(my bones are giving me a fit right now).
I found this funny cartoon and thought I'd post it on my page...however rocks do not sound so appealing!! I know that it is all about choices that are good for me and low in fat and nutritional as well as low in sugar..so I just have to make a conscious effort to WATCH what I eat. I am still depending on God to help me through this and pray that HE guides me and leads me until I am able to have a healthy temple again.
Hope that everyone is doing well and is inspired! God bless!