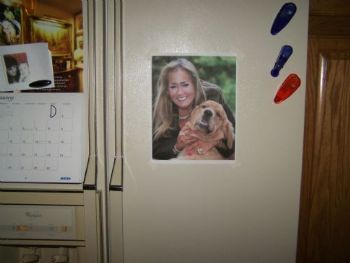 What separates the person who is standing on the precipice ready to make "the ultimate commitment" -- who stands up to be counted vs. the person who chooses to lay in a fetal position in the corner of the bedroom begging the world to please go away??? Sadly, I was both of these people at different times in my life... And, one day, in a moment of lucidity, the realization occurred to me that my very life was hanging in the balance ... And, as I had known in the back of my mind, I was behind the 8 ball -- big time -- and my life no longer worked … I was miserable… so miserable that I could isolate and get away from everyone else but I couldn't get away from me … I knew instinctively that I needed to take a long, hard and brutally honest look at who I was and the mess that vaguely resembled my life …
Being overweight brings with it a multitude of peripheral issues which exacerbates the whole shooting match... The game I chose to play was the intellectual equivalent of "what came first: the chicken or the egg? " Except in my elaborate game, the question was: "Did I get fat first -- which precipitated all these problems; got depressed because of it -- or, was I depressed first, got fat and my life fell apart due to all my problems??? As if either option even remotely mattered one way or the other --- It was, however, the subconscious mind games I played for self-preservation -- each one a more elaborate rip off than the next --- delay tactics all -- the intellectualizing; mind games played with great precision … Putting off the inevitable --- because, on some level, I felt I deserved to live yet another day suffering in my fat suit --- the one of my own creation -- in pain and misery.. Wishing, hoping... waiting for each day to melt into the next …. Until I was no more. I was afraid to open that Pandora's Box with years and years of hurt and pain -- stuff from so long ago that I might fall apart if I revisit, remember, relive it, one more time … And, I dare not go on one more diet, lose 100 lbs, and live with the embarrassment and shame of putting it all back on -- yet again, and then some -- and be seen as that pathetic loser, Earl's wife, Tom and Tiffany's mother -- "… the children with the real fat mom" -- said in sinister, mocking voices as if I didn't know I was fat -- as if I was unaware that they were laughing at me behind my back -- as the mom and wife who couldn't or wouldn't put the fork down long enough to quit overeating …. That is the real reason I lugged around the extra weight for as long as I did is I didn't want to do the necessary work that would heal my heart, body and spirit. There I said it. Once I spoke my truth, I was free -- free to become everything I had dared to dream --- to do whatever I wanted my life to be about … To reach for the highest stars; To do my Life's Purpose -- what I always knew I wanted to do; and to live each and every moment as if it were my last ....
~~~~~~~~~~~~~~~~~~~~~~~~~~~~
~~~~~~~~
The inspiration for this blog was precipitated by the above picture sent to me by SNIX66 (Dianna). Dianna and I have enjoyed some much-needed levity since she and I met -- and I think she knows that I adore her…Especially since she allows me (at least thus far!!) -- in the space of possibility -- to be brutally honest -- so as to fully support her on her journey. D and I both knew instantly, innately, that we chose to trust one another -- two strangers with common goals and dreams -- both daring to dream, to open our hearts and trust one another, in this safe place called "Spark…"
Dianna somewhat sheepishly sent me that first SPmail and said that the picture of Bman (renamed by Faith "BarbieMom") and I were adorning her refrigerator for inspiration -- she said: "the picture is on my page." Embarrassed but somewhat curious, I went to Dianna's page fully expecting to see a tasteful 2"x2" picture of Bentley and me on her fridge... With great shock and embarrassment, I witness what appears to be an 8x10 --- Lordy!!! Thank You, Dianna.
~~~~~~~~~~~~~~~~~~~~~~~~~~~~
~~~~~
The attached quote is from someone who I adore and who said to me: "Although we met on SPARK, I know we'd be friends offline, too ... friends forever!!" Yes -- Lauren .. You are absolutely correct.....
Lauren wrote this quote after being inspired by the above blog, as follows:
" Inspiration is the beginning,
Motivation is the power,
Action is making it happen;
And only you
Can make your dreams come true
By turning Inspiration into Action."
-Lauren Engelhardt
February 6, 2008
I dedicate this blog to a very special person, SabineJade, whose birthday is today 02/03/2008 when I originally wrote this blog; who loving showed up in my life and already is my angel ... To YOU SabineJade!!!