What's weighing me down
Friday, January 25, 2008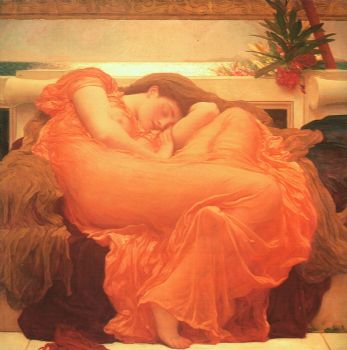 Flaming June (Frederick Lord Leighton) is one of my favorite paintings. I see different things at different times. Perfect for today's posting, for this has been one of those weeks.
There are so many things getting in my way this week that I feel weighed down just thinking of the STRESS! That is the problem; too much time spent THINKING and less time doing something about it. I can recall commenting about just this phenomenon to my friend!
Time to do something different. This weekend, I have blocked out some time to work on my schedule. Something has to GO! Ruth Bell Graham once wrote about the "barrenness of a busy life." Time to make sure there is time for BREATHING...CREATING...STRETCH
ING, and ENJOYING. Even my prayers have been hasty--a sure sign things are out of balance.
Although work pressures have kept me sidetracked much of the week, at least I have made my way to the gym 3 times and will finish the week strong. Next week, my injuries notwithstanding, I will begin weight lifting again. This time next week, I pray that instead of whining about STRESS, I will be instead feeling a bit of pride. Sore muscles do that--I always feel proud of myself!
So instead of being mad/sad--I am hopeful and looking forward. The past week isn't a PB (personal best) kind of week; but this weekend, my goal is to ensure NEXT WEEK WILL BE! NO EXCUSES, NO OTHER WAY--NEXT WEEK WILL BE STELLAR. And today--I'll settle for getting through my tasks without tears and regrets.