Temptation from a 3 yr old?
Wednesday, January 23, 2008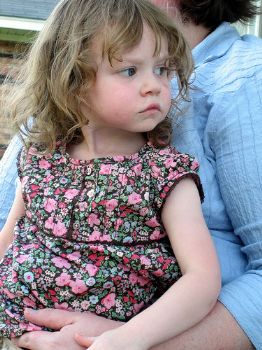 Today I'm babysitting with my youngest grandchild, Ellie. So far, she has delivered as advertised. "She'll watch cartoons, play with the dog and cats and eat... various things." Her regular caregiver has the flu, so we're trying to cover the babysitting deficit. She's been here for a bit over 3 hours now and so far.. so far. She informed me, when I told her, "No, you can't pick up the dog", "My Daddy says, yes!". Ahem. This particular grandchild, even though she's a bit on the tiny side for her age, has a wide ranging and enthusiastic appetite. So far she has sampled a mini sausage biscuit, part of a banana, mandarin orange slices, a bite or two of my breakfast sandwich, and dried apricot pieces. We haven't gotten to lunch yet. Here's the thing. I have been bragging to my s/o's that I haven't been hungry or tempted even once since I started this program. Well, guess what? That ended today. Just being around this constantly snacking toddler is triggering me to eat! I'm so shocked. She hasn't eaten a single thing I would be interested in, but twice now I've found my sneaky little fat brain thinking.. hmmmmmmmmmm... what could I eeeaaaaaaaat? ? I've resisted, but I must say, I have a lot more sympathy for those of you surrounded by people who eat all day!