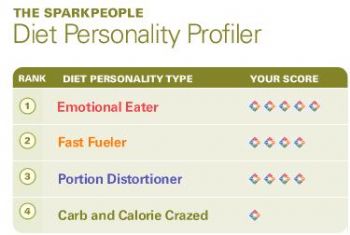 Now - what am I to make of that picture? 5 for Emotional Eater and then 4 each for Fast Fueler and Portion Distortion...I took the Sparkpeople Diet Personality Quiz and answered the questions as best as I could but I didn't always like all the answers.
Yeah - I do agree that I am an emotional eater, but not as much as I used to...fast fueler - yeah, well, you be a single mom working full time and doing all sorts of other things and you'd fuel up fast too...portion distortion? I don't know about that one - I'll have to think on it. I've gotten pretty good at judging portions in the last 2 years...
Here are the descriptions of each of the types...
****************************
*********
Emotional Eater
The main problem you face is eating when you're not hungry or eating to satisfy something other than hunger. "Food for your mood" can cause your diet to vary a great deal. Too much of your eating is driven by boredom, stress, or dejection - you might even find yourself in the kitchen, open cookie bag in hand, and not know why. Mindless and emotional eating for you can be caused by any number of reasons. It is likely you have more weight to lose than most or have grappled with weight most of your life.
A tendency for this personality type is to yo-yo on dieting and swing through "all-or-nothing" extremes (e.g., I've blown it already this meal so why not have dessert?) A few spoonfuls turn into a snack turns into a binge…especially around the high stress holidays.
****************************
***
Fast Fueler
Convenience is everything - and it's a problem. You tend to be on the go a lot and have a no-nonsense but inconsistent approach to health and fitness. The rational side knows about good nutrition and how it helps you get more done. But eating right all the time is a real hassle, especially when you just want to know what tastes good! Moreover, you prefer to eat when hungry but your busy schedule makes it difficult. Relatively speaking, it is also likely you have less weight to lose compared to most.
Fast Fuelers as a general rule tend to get caught up in what they're doing and sometimes forget to eat. A skipped breakfast or lunch is a recipe for trouble, usually ending up in an evening or late night calorie load-up. Fast Fuelers do not necessarily eat a lot of fast food, but your hectic day can lead to unhealthy food because a trip home or the grocery store just isn't convenient.
****************************
****
(I just don't know about this one - I hardly ever eat out)
Portion Distortion
This person is a lifetime member of the Clean Plate Club. In fact, you may often continue to eat beyond the point where you're not even hungry anymore. A study by the American Institute for Cancer Research found that 67% of Americans eat everything on their plates regardless of size. You tend to feel deprived when eating smaller portions and, ironically, you sometimes overeat on "healthy" foods.
There is also a good chance you tend to eat out pretty often, and have noticed how restaurants and fast food joints have been up-sizing and biggie sizing your servings. Yet, even though you know portions have grown, you feel like you haven't eaten unless you are stuffed to the gills. Many of this type also use food as their sole source of weekend entertainment. It's what we call "Eat-for-tainment." Eating with friends and having fun is great, but if you are using food much more than other forms of entertainment (i.e. events that involve not sitting) it is something to be concerned about.