Tuesday Jan 22, 2008
Tuesday, January 22, 2008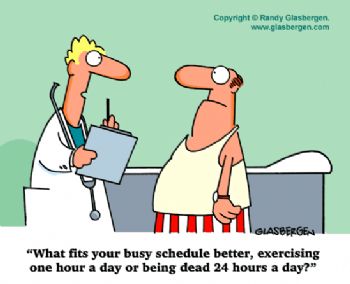 OK--this cartoon says it all.. Excercise plan...hmmm...
I feel good about this week--I think it's going to be the start of something great!
I have been praying during our church's 21 days prayer and fasting for the Lord to stir me and help me to MAKE time for reading His word--and for it to come alive to me again and to get a new hunger for the word..well I believe it has happened. I woke up about 25 minutes early this morning wide awake feeling fresh and well rested. So I got on up and got ready and had about 20 minutes alone reading and sipping coffee--it was wonderful! I read the book of Colossians. Confirmation came on the way to work when the 6:30 preaching program came on that I always listen to with Adrian Rogers, and he preached his whole message out of Colossians!
So, as with anybody that feels in tune with their Savior--I AM HAVING A WONDERFUL DAY!! OH YEAH!!