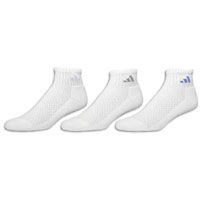 So today I got up and had no desire to go to the gym. I have to walk .75 miles each way and I just did not want to do it. Don't make me, don't make me, don't make me.
I reluctantly got out of bed and did a little of this, a little of that. Finding Facebook bumper stickers becomes the most important thing in life when there's something else that I really need to get done. I had zero motivation...except to find those stickers.
But then, I put on my new workout clothes, and something clicked. Yeah, they're clothes I've had for about three weeks, but I always forget how awesome they are until I put them on again. Magically, I felt energized. I had on Nike pants that are stretchy and warm and a Nike breathable shirt and zip up. I was ready.
Or so I thought, until I put on my socks. I have these Addidas odor resistant socks that wick moisture and are just an absolute joy to wear. Post-workout, I don't feel like I'm peeling my socks off like I do when wearing regular athletic socks. They are glorious. I ran around the Esplanade. It was excellent.
So, my message today is, if you've been working out for a while in old (and maybe baggy?) t-shirts and yoga pants, it's time to spoil yourself. I know, I know...you don't want to buy new workout clothes that you'll just ingrow (the opposite of outgrow, naturally). Well, then go find yourself a sale. Find a Target, Kohl's, or Marshalls, and buy yourself some nice, new, motivating workout clothes.
Or at least invest in the socks.