Feeling Much Better
Wednesday, January 16, 2008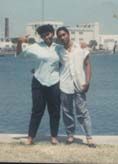 I want to start out and thank all the people who have inquired about my absence. It is so wonderful to know that others really care about your wellbeing.
For four weeks I have been sick with this season's cold virus. I finally went to the Dr. after all that I could do was not working. She put me on Augmenten 875 and started my dosage on Friday. I am finally feeling better and am getting my energy back.
I missed going to the gym. YES I SAID THAT...! Can you believe it? I started back up on Monday and could only do 25mins on the elliptical because it is extremely hot in there and I felt so fatigued. Although that was all I could, I felt good about getting back.
OMG...! There are soo many people so called gonna do it this time. I guess I should be happy for them but dang people who really want to get healthy need to use the machines. I was told that this only last for about mid Feb and they taper off. I guess Oct is my New Years because for the past 2 years I've started back up in that month, who knows.
Anyways, thanks for coming to my page and reading my blog.
PS: The picture is of me when I was in 12th grade visiting the Dali museum in St Pete, FL. This was a year after I had my oldest daughter, I was only 177lbs. This is what I really want to get back to.
Colette