Sticking with it...
Monday, January 14, 2008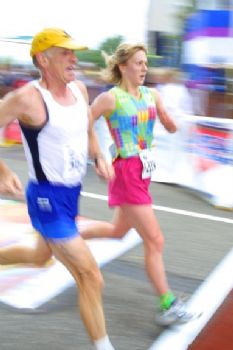 Lots of people start. They make New Year's resolutions, turn over a new leaf, decide to start a 'diet', exercise routine, etc...
But they don't stick to it. Somewhere along the way they give up. They never reach the finish line.
I entered a Biggest Loser contest several months ago. Over 1100 people entered the contest... only about 200 finished. 900 of the 1100 gave up. They quit.
People come and go on Sparkpeople all the time. All full of enthusiasm and excitement, they sign up for an account, create a page, join a team, post their commitment to lose the weight... and disappear.
Most people won't lose weight the way the contestants on the Biggest Loser tv show do: 5, 10, 15 lbs at a time. Instead, it will be a pound, 2 pounds, or maybe just half a pound a week. But the ones who get the weight off are the ones who don't quit.
It's that simple.
Don't quit.
Dan