Only 2 lbs to goal!
Saturday, January 12, 2008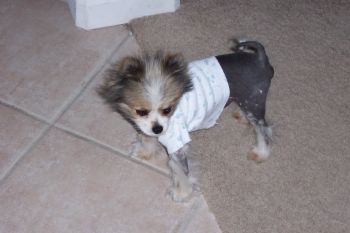 Woo Hoo! I don't know what I did other than cut most all carbs out but I've finally managed to get below 148 lbs. I've been there since Dec 17th. I know, I know we had holidays but I don't like to be on a plateau. I'm just 2 lbs from goal and my calories haven't been radically low either. I started taking a tablespoon or two of olive oil again. It's so good for you and helps your skin, hair and your good cholestrol, plus it helps you to feel satisfied. Not all fats are bad and you would do well to add some to your diet. It could be, with the low carbs, the reason I broke my plateau. Anyway, I'm excited again. I'd begun to think I'd never get below 148, or even back down to it. I don't mind losing slowly but it's the days my weight goes up for no reason and then down the next day for weeks that bothers me.
The doggy is my Zacky when he was without all his hair. He's wearing an newborn baby's undershirt. I call it jammy time!