Exercise, my butt hurts for the first time... OMG!
Thursday, January 10, 2008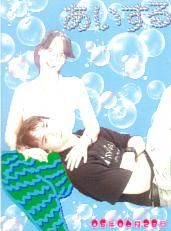 OMG! I have been randomly doing Coach Nicole's workouts that are on sparkpeople, and I tried the butt-blaster tonight... Now, normally I can keep up with Nicole and it doesn't bother me too much, but this butt-blaster kicked my butt... no pun intended.
I was tired, and couldn't wait for the stinking 6 minutes to be over... I feel so fat and out of shape now... ;p. Nah, I'm just playing. Anyway it was a great little work out for my buns. They are one of my problem spots. So I feel pretty good working them. They are most definatly loving the chair right now.... :p
Well I'm off to do the 15 minute ab work out and then the 15 minute ball workout. And if I have it in me I might try the 12 minute Pilates work out.
Oh yeah! I have a yearly goal for 2008 to workout for 1,413 minutes. I also made a New Years resolution to learn 360 new Japanese words.
The word of the day is: Hidorashi= thats mean!
Later!
http://www.sparkpeople.com/resource/fitness_articles.asp?id=727