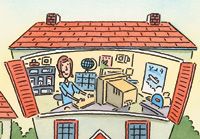 It's time for work
You lock yourself up in your quiet working space
You strap on your headset
You check your stats
You check how much money you made the day before
You log in
You are ready for work
One of the most important things that we can assure the companies that we are working for is that we have a quiet working enviroment.
When a customer calls us, they can not hear any dogs barking, or children in the background.
When I first starting taking calls, my children had to understand that unless someone needed to go to the hospital, don't bother me..lol
We developed a system of sending text to me or writing things down on paper...lol
Since I work a lot of hours from home, most of my day I am connected to a headset.
In the past, I used to wake up, take my shower, make my coffee, throw some food in the slow cooker and log on.
Before my daughter started to drive, I would have a long enough break just to drop off and pick up the kids from school.
Then it was back to work.
Within the last few months, I had taken a long look at my physical activities and realized that I was not getting as much as I should to remain healthy.
I decided that making money is important but also taking care of myself is even more important.
I have decided to take a few hours a day to do things to improve my health.
What I found is that my bank account did not take any drastic plunge and I am actually feeling a bit more healthier,
During the extra hours that I am not working , I just keep busy. I walk my dogs, work in the garden, do some housework and now keep up with the activities at Sparkpeople.
If you are a work at home agent like myself, let me remind you today that even though we enjoy the comfort of working in our pj's, and never having to leave the home unless we want to, remember...
No man is an island
Hey Cassandra....cry me a river...build a bridge... and...get over it...