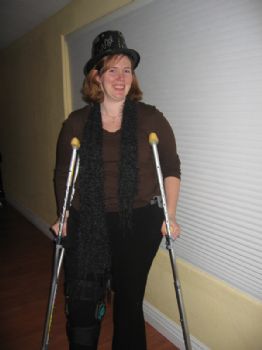 hey, there i am on new year's, right after midnight! i actually went to a party for about an hour! crutches, knee brace, and all!
today is day 9 after surgery. things are going well. i'm down to taking half pills for pain management and i had my first physical therapy appointment today. i got to go back and forth on the exercise bike (i can't pedal all the way around yet), walk around with crutches weight bearing on my leg, straighten and bend it (OW and OW) and get electrotherapy and ice at the end.
i asked the PT if i can stand on the scale without my brace to check how i've been doing with my weight during all this and he said yes. and then he said i am "such a woman" hahahah!
i *think* i've at least maintained in the past 2 weeks. this includes christmas eve, christmas, surgery and my husband's cooking, visitors bearing pizza and cake, and NO activity. but my husband has been preparing south beach meals to the best of his abilities, so i think i'm ok. for example, today:
slept in and had to go straight to PT, so no breakfast (bad me).
snack: almonds
lunch: turkey chili
snack: almond stuffed green olives
dinner: the lean parts of corned beef served over spaghetti squash, with a side bowl of french onion soup
dessert: sugar free fudgesicle
anyways, wish me luck for a weigh in around 180 lbs or lower!