Plan for the week of 16/12/07-22/12/07
Sunday, December 16, 2007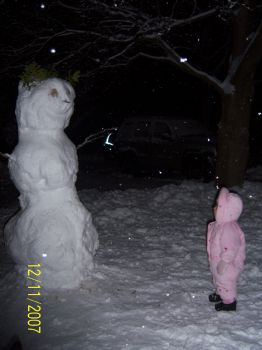 I thought maybe it would be a good idea to put together an exercise plan for the week and get it in writing. December can get so crazy and it's always nice to have a plan. The only thing that may interfere with my plan this week is the snow. I almost couldn't go to the gym tonight because of all the snow we got today, something like 35 cm in total. I realized how crazy I was for braving the storm when I was the only one in the entire gym. It was nice to have the place to myself though.
16/12/07-22/12/07
Sun.- Run (4.5 miles)
Mon.-Biceps, Tricpes & Abs + Run
Tues.-Legs & Calves + Run
Wed.-Chest, Back & Abs + Run
Thurs.-Run/Rest
Fri.-Shoulders & Traps + Run
Sat.Rest
I'm also going to be really disciplined and eat about 1,300 calories a day and make sure that I'm eating clean. I've gotten carried away these last couple days with Christmas baking and I have to constantly remind myself that yes uncooked batter does have calories in it too!