Update - body image
Sunday, December 02, 2007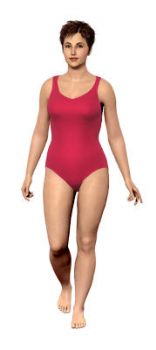 Ok, so here it is. I just spent HOURS online playing with My Virtual Model. And I've discovered something. When I put in my start weight, I was shocked at how heavy I was. Truly gasping-out-loud shocked. Then, when I saw how far I've come, I was really surprised.
Now, the interesting bit . . . I don't see much difference between my current weight 165 (ISH) and 135 . . . at least not on the virtual model.
I know (and pray) that the additional weight loss will (continue to) shrink my belly and thighs. Interestingly enough, though, it might not have as dramatic an effect on my face as going from 200 to 165 did.
So, what's most amazing about all of this? After printing out all three photos. . . start weight, current weight, goal weight . . . I find myself looking at all three with immense sympathy and admiration. What a strong body to tolerate such changes in mass! What amazing creations we are!
So there, an updated mental image of what I look like (easier online than in the mirror) . . . and a healthier self-respect and re-newed determination to continue as I have begun.
*HUGS* to all!! We CAN do this!!!!!!!!
-Tango