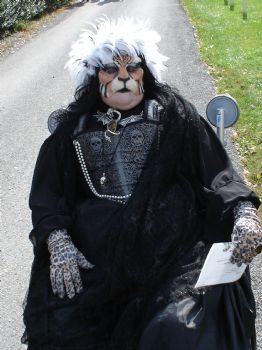 dearest Ren folks, I've been away because I've been sitting at home feeling sorry for myself with my knee injury. It escalated to femoral necrosis, which means I lost the blood supply to the knobbly upper part of the knee. I almost had to have a knee replacement. I was out of work for 6 weeks and work forced me out on disability even though I felt like I could do my work from home. I thought I was at the end of my rope emotionally. I couldn't go to the Faire as I couldn't even walk. I had a wheel chair and a walker and crutches where they wouldn't go. It was just awful. Then, my brother Dan came up from Maryland and took me to the Faire. There is a picture of him on my Spark page with Looney Lucy from Empty Hats. Dan pushed me all around that Faire, which isn't easy since the place is all up and down hills. I was so happy just to be out and about. It was the 2nd weekend of the Halloween Daze so I'm in costume.
I had an epiphany while all of this was happening. I realized that being fat is probably the least of my problems. I asked God if I could just walk again and do all the things I couldn't do now that I'd stop agonizing over my weight. I had some jeans that I haven't been able to wear for almost 2 years after I had blood clots in both legs. I bundled those jeans up and my husband took me up to the Vanity Fair outlets. On the way, we put those tight jeans in the Salvation Army collection bin. I bought some bigger jeans that fit beautifully and actually look pretty darn good on me. I bought about 5 pair since I'm allowed to wear them to work. When I reached the cash register, instead of the $18 price on the tag (marked down from $44 suggested retail) they rang up as $5. I felt that was God's way of reassuring me that I was on the right path.
I also changed my attitude about work. They haven't exactly treated me very kindly but I decided to just be myself. I'm a pretty bubbly person and I feel that even if you are not the greatest person in the world at your job, if you are pleasant and cheery, people are going to want you around a whole lot more than if you are always grumping about something. So the new attitude kicked in, the new style is here and Maria goes out to face the world, even if it's behind a walker for the next few weeks, at least I'm out there.
While I was down with the lastest knee complication, I wasn't allowed to drive, which drove me up the wall. I live in a very rural area of southern Lancaster County, Pennsylvania and there is no mass transit to my door.
I'm blessed with an amazing husband who has certainly stepped up to the plate to help me. He has been cleaning our house and even made me sit down while he cooked the entire Thanksgiving dinner. I did put the food away but clean up will have to wait until I can get to the store for some more dishwasher detergent!
One thing that keeps me smiling is to remember that big women can wear big jewelry and I love jewelry!
So even though I'm still plugging away at the weight issue and easing back into my exercise routine (I wasn't even allowed on my stationary bike with my knee condition) I'm a lot calmer about it and hoping this is a great turning point in my life. I ask you to join me in celebrating this new found peace.
Love,
Maria