I'm not suffering
Wednesday, November 21, 2007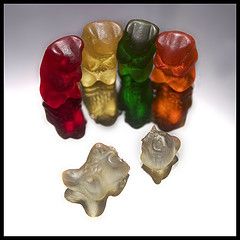 I always gave the excuse for not losing weight as it "was just too hard." everything i had to give up, and keep doing, blah blah blah. yes, it's hard and it's difficult and a lot of sacrifice, but it's certainly not harder than being fat and depressed about it!
when i was eating whatever i wanted, i felt guilty ALL THE TIME. it didn't matter what i ate, i felt bad about it. how enjoyable is that? not at all! and when i didn't exercise, i felt guilty and lazy and hopeless. i just felt horrible all day long. so even though i wasn't "suffering" by dieting and exercising, i was suffering anyway. i just felt miserable and really didn't like myself or what i was doing with my life.
now, i'm taking care of what i eat, and making an effort to work out. yes, it's difficult and sometimes i don't want to do it. but i don't feel guilty all the time now. and although it seems like there is so much weight to lose....it does seem possible!
when i was doing what i wanted (or thought i wanted,) i really was suffering.
now that i'm supposed to be sacrificing, i actually feel better. getting in shape and getting healthier is actually so much more joyous than not taking responsiblity!!