People walk 1 mile more if wearing a pedometer
Wednesday, November 21, 2007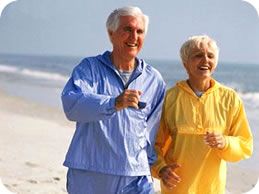 Studies have found that if people wear a pedometer, they end up walking an average of a mile more throughout the day (vs. those who didn't wear one)- even if they can't see how many steps are being logged. Participants set a daily step goal and kept a diary of their progress. The goal and diary seemed to be key: those in the study who didn't set a goal and didn't log their progress didn't increase their activity.
This reinforces something we talk about a lot on SparkPeople- the importance of setting goals and tracking your progress as a way to get you where you want to go! So if you've ever considered not tracking your cardio or strength training in the fitness tracker, this study might make you think again!
If you're interested in purchasing a pedometer but aren't sure what to look for, check out the article "Get Fit the Right-Left-Right Way" (www.sparkpeople.com/resource/
fitness_articles.asp?id=327) in the Fitness Resource Center.
http://www.msnbc.msn.com/id/21901412/