My Neighbor…Stalker or Saboteur?
Wednesday, November 14, 2007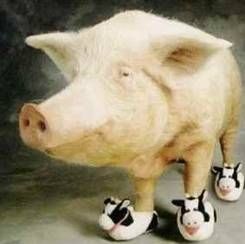 Living in a camper and traveling from one state to another, for construction assignments has been an interesting lifestyle. We've made a lot of great friends along the way, while living in various parks and campgrounds.
A few weeks back, James and I headed out for an extended weekend road trip. Upon our return, we discovered a dilapidated motor home parked in the lot at the north side of us. I scrutinized the set-up…What I found peculiar was the signage placed on the camper…"Caution! Area Under Camera Surveillance!" All the windows were covered so tightly that one could barely discern the glow of an interior light. Hmmmm...How odd. Biker Joe, living 2 houses down, adds to this mystery, saying that the guy moved in right after we'd left, and he had yet to come out in the daytime. Joe said, "I think you might have a vampire or werewolf living next to you!" Great!
For 4 days, I was the snoopy old lady, constantly peeping, in hopes of catching some glimpse of our new neighbor. On Day 3, I caught his door opening! To my dismay, a long rug hung over his doorway, so I only got to see a hand (was that hair on the knuckles?), as it pulled in a leash and bare feet (was that hair on the toes?), protruding under the hanging tapestry—then later, the appearance of his cat on the leash. Drat!! My imagination ran wild? Who was this guy?!! Maybe a drug dealer? A spy for the FBI or CIA? An agent from the IRS? A bubble person, allergic to sunlight? I was somewhat freaking out—I'm not normally the nosy person, but dang, who did this guy think he was, expecting me to respect his privacy???
Things all changed that afternoon, as James and I sat on our deck. Around the corner popped a guy we'd never seen before. With a friendly wave, he came over and introduced himself as our new neighbor, Mike. "Do you guys like chocolate cookies?" he asked, as he extended a bag of the goodies to James. (My hindsight now tells me that this was the first action my new neighbor used in trying to sabotage my diet…) As James nibbled on the cookies, Mike proceeded to give us a life story of being on social security for a back problem—which explained his never having to leave his house for a job. He divulged owning a 54" flat screen TV, and his fear of being burglarized—which explained the signage and the covered windows. He explained suffering from diarrhea for the last week and questioning where the nearest grocery store was, as he needed to get some toilet paper. Being the kind neighbor lady I am, I retrieved a couple spare rolls and handed them to him. As he headed back towards his house, he called out, "You might want to watch those cookies. I'm starting to think that's why I've got the runs!"
A few days later, James came into the house, muttering, "Houston, we have a winner!" I gave him a curious look and he proceeded to tell me that Mike had caught him outside and told a story of his house being infested with white fleas. He'd apparently had to go to the emergency room the night before, as the biting was so bad! Terror-stricken, I croaked out, "How close did he get to you?" It didn't matter how much my dear hubby reassured me that he didn't get within flea-jumping distance to the guy. My body itched feverishly. I knew I didn't have fleas, yet my scalp said otherwise. I had a hard time reading my spark mail, as thoughts of white fleas danced in (and on) my head. I earned a Spark Point for googling white fleas, and came up with nothing! (Perhaps fleas turn white, without the aid of sunlight??) Even after Mike bug bombed his house, I had flea frights. With the bomb going off, would the fleas flee over to my house? For almost a week, I had a hard time concentrating on my Spark comments and articles. (My hindsight now tells me that this was the second action my new neighbor used in trying to sabotage my diet.) And now that you have a bad case of the head itches, read on for the next episode…
It's Halloween and Mike catches me coming back from a walk. "Hey! I've noticed that you go out walking a lot," he comments. "Yup! Just trying to get in shape!" I shouted from a safe distance. An hour later, Mike is at the door with a cup in his hand. "You've got to try this. It's sort of like a detoxifying anti-oxidant!" He proceeds to tell me it's a secret recipe from his sister, consisting of butter—can't be margarine; vinegar—must be cider, not white; rum—most any brand should work, but he prefers Bacardi; lemon juice—from a real lemon, not the imitation stuff; and minced garlic. Aside from holding in a gasp of disgust, I am mentally calculating the calories, and I'm also thinking, Garlic—how ironic—guess that rules out the werewolf theory. "James," I holler, "Mike is here and has something he wants you to try!" (My hindsight now tells me that this was the third action my new neighbor used in trying to sabotage my diet.)
Biker Joe is laughing. He tells the story of throwing away an old Dish Network satellite dish, and Mike asking if he could have it. Turns out Mike's TV has an internal setting for SelecTV Satellite—which I don't have a rat's butt clue about, but whatever. Mike is absolutely certain that Biker Joe's dish will work with his big screen TV. Biker Joe proceeds to tell me that the dish won't work, as it's not compatible with Mike's internal TV settings, but the real kicker is that this guy really believes that since his TV has the hook-ups, all he has to do is make the connections and he'll have instant service. He doesn't understand that regardless of the compatibility question, he would still need to subscribe to the service, in order for it to actually work. Numerous neighbors try to explain this, but Mike won't hear of it. His TV is satellite ready, so all he needs to do is hook one to it and Voila! Mike spends the afternoon positioning the satellite on top of his house. Nightfall comes, and I'm off to bed. Sparks has taught me the importance of getting a good 8 hours of sleep. All of a sudden, I'm awakened by a pounding noise of hammer against pipe. What in tarnations???? Since he got no reception from the top of his house, he's trying a new location. Mike is now at the rear of his house, driving a post into the ground, to mount his satellite! The noise continues for a couple hours, as Mike works with a flashlight in his mouth. Later the next day, I noticed the satellite in the dumpster. (My hindsight now tells me that this was the fourth action my new neighbor used in trying to sabotage my diet.)
Since we do live in a camper, I like to keep my blinds open, to fend off feelings of claustrophobia. I don't see this as an issue, as we currently have no neighbor to our south side and Mike has his windows totally closed off, so there's nobody to really see me. Yeah, right! Lately, during my sessions of Granny Dancing (which is my daily cardio activity—crank the tunes and shake it, baby!), I've noticed that Mike comes out of his house and lurks in the yard. Coincidence? I'm thinking not! All of a sudden, as "She's a Brick House" is blaring and I'm being the groovy granny, boogying to the beat, I lock eyes with Mike and have to nonchalantly nod and pretend to straighten the pillows on the couch. Dang! Lost the beat, and now I'm a prisoner, confined to dancing in the kitchen or hallway, until he disappears from sight! (My hindsight now tells me that this was the fifth action my new neighbor used in trying to sabotage my diet.)
The campground maintenance crew just came over and graded out the empty lot to the south side of us, prepping it for newcomers. Wonder who will be moving in.
Member Comments About This Blog Post
BECA387
OMG - you had me rolling on the floor! Thanks for the laughs!


3735 days ago

SHELL367
What a crack up. Neighbors!!! Aren't they great?!


3738 days ago

JUDY4FITNESS
You might want to watch those cookies. I'm starting to think that's why I've got the runs!"

You are hilarious!!! Do these things really happen to you? Maybe I'm too closed mind to notice things like this in my life!

She's A Brick House!!!



3748 days ago

METALBABE
Seriously, have you ever thought of publishing your stories? You are brilliant!


3751 days ago

LUVBONNIE
LOVED it!!! Reminds me of Flannie Flagg. Will read all your blogs!!!!


3755 days ago

KATIE233


debbie my god what a neighbour,i really enjoy the story,who,s pig is that with boots on.lol lol. enjoy your neighbor .


3758 days ago

HEATHHILL
That was just hysterical!!! I think you have a crazy person living next to you, but since so far he seems harmless, maybe he's no crazier than the rest of us, just more open about it :)


3763 days ago

2GIRLSOFMINE
You are great story teller! Sounds like you are living in a sitcom!


3771 days ago

SMLNGS_MY_FVRT


That was AWESOME!!! (my boss just came into my office to see what I was laughing at) You made my day!


3771 days ago

JENNYALL4HIM
That was awesome! Thanks for the laugh!


3776 days ago

IANURSE73
I am burning calories laughing.........thanks for the laughs!!!!!


3790 days ago

JOYCEANN1955
I laughed till it hurt! White fleas? I do think he is a saboteur...all the signs point to that...lol


3791 days ago

NITAINMN
sorry for the second post! Never seen 30 comments on anyone's blog! You ARE poplular or rather your blogs are:) Thanks for a good laugh:) LOL


3793 days ago

NITAINMN
Hilarious story! What an adventure - just living in that park!! You are lucky to be traveling although, my wish for you would be in your honeymoon place, warm and sunny!


3793 days ago

CHANGE188
I had to stop by and see what caused GrannyP to spew her pineapple.... Ha ha ha! Your neighbor Mike sounds like my old neighbor Mike from NC! The garlic rules him out as a vampire but I'm inclined to go with the werewolf theory because of the fleas...Keep your silver bullets handy! I find the best way to deal with weird people is to out-weird them. It freaks them out and they tend to go away, it's kind of fun too! Great Story!


3801 days ago

NAN71486
I didn't know you before today; but I will be reading all your blogs from now on. I haven't read your page yet, but are you a writer? Nice to meet you!

Nancy from Louisiana


3802 days ago

AMBERROGUE


WOW, what a story! Mike does sound just a mite bit creepy. I hope he's not really creepy but just eccentric! Good luck! -Weeble


3802 days ago

CASHRAT


Your stories are way better than anything they have me read in my lit classes. Another A+!!!!!

As far as mike goes, I am honestly a little freaked out for you!!


3802 days ago

MAINLADY
Debbie...what a wonderful and entertaining story....still laughing. You MUST write a book of short stories. I have no doubt you would be published in a heart beat. It's so much fun to come to your site and read all about what's been happening.

Hugs,
Sharon


3803 days ago

0GRANNYPANTIES


OMG. I spit pineapple on my computer screen! That is hysterical!!!!!! Good luck with the new neighbors. Are they there yet? Can't wait to hear!!


3804 days ago

AMIYESIAM
wonderful story. You live an interesting life!!!!!!!!!


3805 days ago

MELYSSAMALLONEE
Oh my goodness! I ran across your page randomly and I thoroughly enjoyed your story and the 5 saboatages....ha ha! You're a wonderful writer!
Melyssa


3807 days ago

LIZZYBETH2002
hahahaha I have missed your stories!


3809 days ago

SWIFT_OSPREY
I was trying to think up something clever to say to all of that, but all I can come up with is: "Wow!"


3809 days ago

BOOGIEWOOGIE
Oh Deb! This is freaky. . What's up with that......pounding away for two hours in the middle of the night and lurking around your front lawn. No respect for privacy huh? Don't let your emotions get the best of you sweety. Stay focused and keep dancin babe! . Maybe he'll move soon.


3811 days ago

DIXIEMISS00
I am so glad I live out in the country, we had some winners for neighborers
( man next door riding his riding mower naked down the dirt road) in the mid afternnoon. But there is enough space to fit four houses inbetween us and them. So no one can see in our windows unless they are right at it. I love country living!! Hoping you get rid of him soon.

Hugs


3812 days ago

AMYIS200
Ummm...wow. that's all I can think of to say! thank God Mike isn't a permanant neighbor! I was the GM of a satellite store for seven years, and I used to have to deal with yoo hoo's like him all the time. No matter what you told them, they were ALWAYS right...until they finally gave up and hired us to come out to do the job. And the fact that I was a woman, always instantly disquaified me from knowing my @$$ from a whole in the ground, as far as they were concerned! I actually had a call one time from a woman yelling at me because her system wasn't working. I said, "Okay, let's do some troubleshooting over the phone before I send someone out. What channel is your tv on?" She frantically responded, "I don't know...the screen is black!!" I told her to TURN ON HER TV, and sure enough...everything was fixed! Scary....


3813 days ago

EXPT626
You might want to dig out that old satellite dish and keep it handy.

Might be useful as a weapon. A sort of upgrade to the iron frying pan.

A 'fraying' pan, if you will.


3813 days ago

MAGICLANTERN
LOL ! Oh wow you really are a great writer, ever thought of getting a book out, I'd read it for sure !

We live in a modular home park, one of those modern ones where you have to keep your gardens pretty, etc...It's quite a quiet place but, just like camping, the neighbors are 'right there'. Yup, I know what you mean about exercising --except I close my curtains, even the den area off the kitchen is open. If I want to exercise with open curtains then I have to go to one of the bedrooms, but I don't think soooo. Give me a wide open space to boogie, that's how it works best :) One thing I do wish, I wish I could walk around the house nude sometimes, but then again, I may end up causing a few heart problems for some of the neighbors lol !

Anyhooo, love your wonderful tales of daily life, you really have a knack for bringing them to life. Can't wait to read what else Mike has in store for you ;)

Btw: did your husband have any reaction to those cookies ?


3813 days ago

GEOGRAPHER
Hmmmmm, maybe you can put up one way mirrors, you know the kind store security uses to catch shoplifters up. Then you can granny dance and keep an eye on the neighbors.


3813 days ago

JUSTMINE
Really laughing, Debbie,
I agree with Linda, I wonder what he is thinking about ya all..and that blasted satillite dish..lol
did you ever see the movie with robin williams ( RV)?....you really need to watch it..lol
hugs
sheri


3813 days ago

~*LINDA*~
DEBBIE!, i just read crazy Mikes blog!!! you want to hear what he`s saying about you !!!!


3813 days ago

BETHIN_MN
Too funny! Are you going to wait it out, or will you be searching for a new site sometime soon? How far apart are your RV's? Too creepy!


3813 days ago

-STEPHANIE-
Hey Debbie, loved your story- I was lookin' around YouTube and I think Mike has posted a clip of your Granny Dance... YEP, that's you... there you are straightening up the pillows! It would be much better if he could've taped the music too, it just looks like you're scratchin' fleas, flailing your arms and just plain going nuts! YOU GO GIRL!


3813 days ago

CARPEOMNIA
Glad it's so cold here that fleas would freeze...I've been caught in the act of bebopping to music (Bill's band used to play Brick House...I love it) and had to pretend I was doing something else....OOOps..
You're hilarious...when's your first book coming out??? "Crazy Ed's Contemplations about Life"


3813 days ago

BAAB_GIRL


You are hilarious *scratches ear and head starts to itch, now ear again* damn it!

Sheri


3813 days ago

-ANGIE-


MY HEAD IS STILL ITCHING! YOU ARE HILARIOUS! THANKS FOR A MUCH NEEDED LAUGH.


3814 days ago

BLONDEGIRL10
Awesome EddieMae, just awesome!!!


3814 days ago

JMARIES51
You really need to write a book. I have never heard such funny stories.. and a little scarey too.


3814 days ago

UP4MORE


hehehe!! This was a wonderful read thank you!


3814 days ago

STARTSPARKING
Gotta love those neighbors! Don't you let that Mike sabotage your good food choices and regular exercises! Maybe he's jealous because he can't stand others getting healthier! If he keeps interfering with your Granny Dancing, you need to switch to turbo kickboxing or some other martial arts instead. If you see him at your window, give him a stern look in the eye. Then you make the best Bruce Lee imitation you can muster, give a good kick in his direction, and scream "Keeya!" LOL


3814 days ago

HARLEYMOM59
love the pictures! where do you get these things? and i think some of those fleas got into your brain. (crazy ed) maybe if it wasn't for the darn MIKE you would have lost another human brain by now. the enemy is everywhere.
watch out for 'em ed.

peg.


3814 days ago

LINDSEYJ
I'm laughing so hard I'm crying!! Makes me wonder how many times I've sabotaged my own diet..?


3814 days ago



Disclaimer: Weight loss results will vary from person to person. No individual result should be seen as a typical result of following the SparkPeople program.