Healthy Waist Measurement
Wednesday, November 14, 2007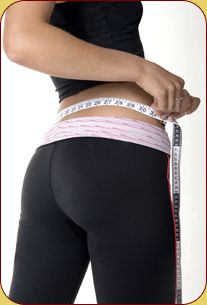 I've heard on numerous occasions over the years that excess weight is not the only risk to health. Where we store our fat on our body is also quite important. A person with a "pear" shape body fares much better than one with an "apple" shape because the latter stores most of the fat in the abdomen area. Such person is more likely to develop serious health problems. The ideal waist measurement for men is under 40 inches and under 35 inches for women.
Today I learned two more interesting facts about the correlation between waist measurement and increased health risks. The first one is from The Stroke Foundation's web site. It cites the same recommended waist measurement for men (under 40") and for women (under 35"). However, race plays an important factor. For Chinese and South Asian people, the recommended waist measurement is even lower: 35" for men and 32" for women.
The other interesting fact I learned is from the November 2007 issue of The Reader's Digest. Dr. Michael F. Roizen and Dr. Mehmet C. Oz noted that waist size is a great way to measure how we deal with stress. The fat between our organs behind our belly button sucks up stress hormones, so we deposit more fat there when we are stressed. Ideally, our waist measurement should be less than half our height. They cited an example of a 5' 5" person (65") should have a waist smaller than 32.5".
Besides relying on our scales to reveal weight loss, using a tape measure is another good way to gauge progress. Of the three measurements that SparkPeople recommend that we track (neck, waist, and hip), waist size is the best indicator. I am pleased that currently my waist size is within the guideline as recommended by Dr. Roizen and Dr. Oz.
http://ww2.heartandstroke.ca/Page.asp?PageID=1975&ArticleID=5243&Src=heart&From=SubCategory