Oh dang.....it works!?!
Tuesday, October 30, 2007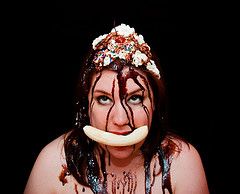 apparently, this whole "weight loss" thing works if you do it right.
who woulda thunk it??
seriously, by taking control of my life and my choices, i can see myself actually reaching my goal eventually! yes, i know, simple enough - watch what you eat and exercise. but it's so much more than that!
i seriously had to get to a point where i needed to make some changes. and this wasn't anything anyone else could do for me. no more "i promise to start tomorrow" or "i deserve this cookie." i deserve to feel good about myself, that's what i deserve!!!
so, i had to commit to myself, which is the hardest thing in the world. have me make a promise to someone else, i can keep it easily. but to myself? not always so easy.
i love myself, i do, and not in an egotistical narcissistic way. i need to be able to rely on myself for my happiness. and if losing weight is one way i'll be happier, then i need to do that for myself. i'm happy with a lot about myself, don't get me wrong. and i don't think i don't deserve good things until i lose weight - i deserve good things now AND when i lose weight.
i guess my whole point is that i do like myself, and if i want others to treat me with respect and kindness, i most certainly need to do it for myself. and one way is committing myself to weight loss